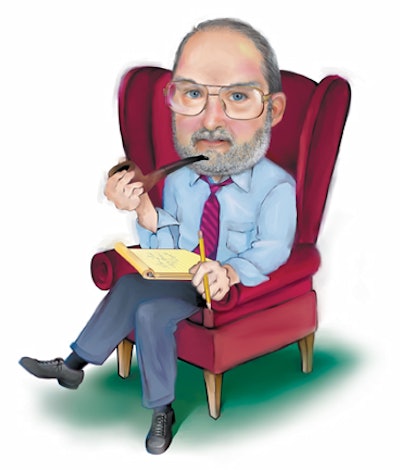 When colleague Dave Newcorn called recently for my recollections of the days when returnable, refillable packaging was more commonplace, I was struck that the examination of both primary and secondary material markets can show how precarious they can be in this dynamic packaging business. This is especially true for the recycling markets.
Although I stop short of describing myself as an "environmentalist" because it conjures up nuances I don't embrace, I admit that waste makes my skin crawl. And I've been that way ever since growing up with parents who regularly reminded me what it was like to survive the Depression years, plus WWII with its ration coupons when, believe it or not, I was actually quite young. One fond memory was learning from my grandfather how to tie bundles of newspapers with string and then taking a carload to sell to a nearby scrap dealer.
Some years ago, I served as a commissioner on the Solid Waste Commission for my suburban village, Oak Park, near Chicago. In the early '90s, we were working hard to be proactive about waste in what is still an environmentally active town. Over a period of about six years, we established practices for newspapers, mixed paper, and lawn and garden waste that were pioneering in our area and, in total, even across the country.
Just months after I relinquished my position, the village reported a waste diversion rate of about 44%, which I doubt that Oak Park has equaled since then, even though the curbside recycling program remains in place. But these were the heady days of the green movement that have since waned.
One of the reasons I had difficulty in sustaining my own fervor on the commission was the "recycle-at-any-cost" mentality of some commissioners. I remember when one commissioner asked about the balance sheet—even though all commissioners were regularly given the financial reports—and was shocked to discover that recycling cost village taxpayers something like $2 million/yr over and above income from the value of recycled materials. We all had the information, but some people weren't paying attention.
Anyway, Dave's request got me to recalling the old days of refillable glass soft drink bottles in Chicago. I carefully explained to him why the stores hated to devote labor and space to offering refunds and how, at least in Chicago, teamsters hated to pick up wooden crates and heavy bottles that had to be returned for washing, sanitizing, and refilling. Not to mention beverage plants that didn't want to operate extensive and expensive washing and sanitizing operations. And finally, how consumers who saved bottles in six- and eight-pack carriers they patiently lugged back to stores for deposits were beginning to embrace one-way containers in the early days of the recyclable aluminum can.
As I looked over that history, it struck me how precarious the supply chain can become. Dave asked about recyclable, refillable containers for industrial use, and I explained about the battle between returnable plastic vs corrugated containers for produce that I touched on in March. Many would see the use of reusable containers as an environmentally positive move.
But I also noted that the one-way corrugated container collected by retailers, businesses, and the public is a key linchpin of the OCC (old corrugated containers) recycled paper market. So, if returnable plastic makes significant penetration in supplanting corrugated in produce containers and elsewhere, a reduced supply could affect the OCC market, perhaps even threatening the future of some recyclers.
And should the supply of OCC be limited, those materials that use OCC to increase the recycled content might also prove to be in short supply.
See an archive of Arnie Orloski's Pipeline columns at www.packworld.com/pipeline.
Arnie can be reached at orloski@packworld.com