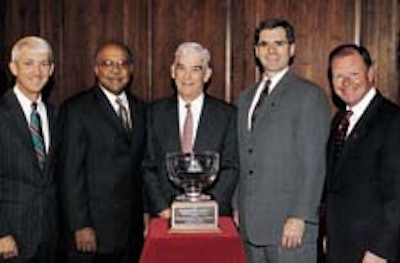 —Aaron L. Brody, managing director of Rubbright*Brody, Inc., received the 2000 Nicholas Appert Award from the Institute of Food Technologists (Chicago, IL) for advancing the field of food science.
—RevTech (New York, NY) was awarded the Environmental Protection Agency's 2000 Presidential Green Chemistry Challenge Award in the small business category for its Envirogluv ink technology.
—Robert H. Chapman, CEO of Barry-Wehmiller Co., Inc. (St. Louis, MO), was awarded the Regional Entrepreneur of the Year award by Ernst & Young for the mfg./industrial category.
—Uddeholm (Rolling Meadows, IL) is celebrating its 75th anniversary in the U.S. this year.
—Laminations (Appleton, WI) hosted the Wisconsin Chapter of Women in Packaging for a meeting and tour.
—Seal-It, Inc. (Farmingdale, NY) was named one of the top 500 women-owned businesses in the U.S., according to Working Women Magazine.
—Datacolor (Lawrenceville, NJ) has opened its Colorite Studios, a viewing area for its color communications software, Colorite™.
—Bayer Corp. (Pittsburgh, PA) is the nation's second-safest large chemical co., according to the American Chemistry Council.
—ISO 9001 certification: Bio-Chem Valve, Inc. (Boonton, NJ); Northwest Coatings Corp. (Oak Creek, WI).
Companies in this article