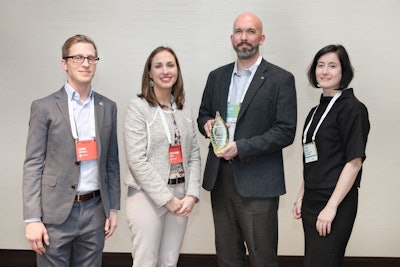 The Center for the Circular Economy at Closed Loop Partners and the Sustainable Packaging Coalition have announced the winner of the FlexPack Recovery Challenge: ReNew ELP.

In October 2018, the two organizations launched thechallenge, an open competition for innovators, entrepreneurs, and start-ups to submit new ideas for reprocessing technologies capable of beneficially recovering multi-material flexible packaging waste.
Five finalists were selected by a panel of judges from the SPC and the Center for the Circular Economy at Closed Loop Partners staff; input from industry advisors was provided as well. Each finalist participated in the SPC's spring conference, SPC Impact, where they presented to an audience of major brands, plastic manufacturers, and packaging suppliers, including members of the SPC's Industry Leadership Committee on Multi-Material Flexible Recovery, on how their technologies can beneficially recover the embodied environmental investment within multi-material flexible packaging waste and can be scaled to provide meaningful solutions. These finalists included Cadel De-Inking, ReNew ELP, Renewlogy, Synova-BioBTX, and Ekopolimer.
Out of the five finalists, U.K. company ReNew ELP was selected as the final Challenge winner. ReNew ELP will receive a free year of membership to the SPC and enter into a mentorship program jointly run by the SPC and Closed Loop Partners.

"ReNew ELP submitted a detailed, transparent process description and market analysis. We were impressed with the processing capacity scale—up to 80,000 to100,000 tons per year in their initial facility—and the fact that their unique CAT-HTR technology allows for mixed-waste feedstocks, including paper, PET, and organics. Their modular approach considers variable material costs in different markets, and their end markets for diverse hydrocarbon products likeoils, waxes, and chemicals represent large market potential. ReNew ELP is a great fit to participate in a mentorship program run by our organizations," said representatives from the SPC and Closed Loop Partners in a joint statement.

The SPC & The Center for the Circular Economy at Closed Loop Partners team followed up with Richard Daley, Managing Director of ReNew ELP, for a post challenge interview, which you can read here.
The SPC and CLP believe all of technologies presented by the finalists represent the kinds of diverse solutions needed for recovery of flexible packaging.