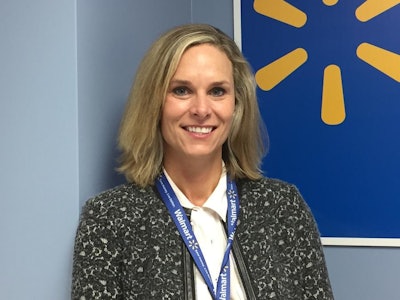 At its annual supplier forum today, Walmart issued a new set of waste reduction commitments around plastic packaging for its private brand program—an initiative that is expected to impact more than 30,000 SKUs. Says Walmart, the move is designed to help get to the heart of the plastic waste problem by focusing on its private brand packaging, building on existing efforts to reduce plastic waste in Walmart U.S. and Sam's Club operations, and encouraging national brand suppliers to set similar packaging goals.
Says Laura Phillips, Senior Vice President for Global Sustainability at Walmart Inc., the new commitments link to the retailer's overall vision of zero waste. She explains, "We've been working hard to achieve zero waste in our own operations for years, both by reducing our waste and increasing the waste we are diverting to landfills. We've also been working on packaging. We published our Sustainable Packaging Playbook several years ago, and we've been very much focused on packaging sustainability in our supply chain.
"However, we recognized the challenges related to plastic waste over the last year or so deserved even more focus and attention. Many of our stakeholders, investors, and customers are concerned about this issue, so we took a look at our existing work and said, 'We can do more.' We then studied the plastic footprint in our own operations and through our entire supply chain and landed on packaging as an area we can uniquely influence."
At the forum, Walmart announced it will work with its U.S. private brand suppliers on the following commitments:
Target at least 20% post-consumer recycled content in private brand packaging by 2025
Seek to achieve 100% recyclable, reusable, or industrially compostable packaging for its private brand packaging by 2025
Label 100% of food and consumable private brand packaging with the How2Recycle® label by 2022
Work with suppliers to eliminate the non-recyclable PVC packaging material in its general merchandise packaging by 2020
Reduce private brand plastic packaging when possible, optimizing the use to meet the need
Regarding the goal around the use of 20% PCR in its packaging by 2025, Phillips says Walmart recognizes that due to low plastic waste collection rates, it will be a challenge. "We completed an analysis and identified five key plastic packaging materials that we want to target, and we're working very closely with those suppliers and those supply chains to look at what we can do to help increase the collection as well as the recycled content in those five key areas."
Working to increase waste collection for recycling is not a new effort by the retailer. Its Walmart Foundation supports a number of circular economy initiatives such as the U.S. Chamber of Commerce Foundation's Beyond 34 project, a multi-stakeholder initiative aimed at increasing the current 34% recycling rate in the U.S. by providing a scalable model to increase and improve recycling and recovery rates in local communities.
Increasing its use of the Sustainable Packaging Coalition's How2Recycle label to 100% of its private brand products is also part of Walmart's efforts to boost collection rates by educating consumers on proper recycling. At present, Phillips says, approximately 10,000 of Walmart's U.S. private brand products carry the label, and the program is being rolled out in Canada. "We're also challenging all of our national brands to use the label," she adds.
At the forum, Walmart also encouraged these suppliers to make similar packaging waste-reduction commitments through its Project Gigaton platform. To aid in such an initiative, it introduced a new recycling playbook that gives overviews on what type of plastic packaging is more easily recyclable and provides information on recycling challenges for certain packaging materials.
Commenting on Walmart's goal of achieving 100% recyclable, reusable, or industrially compostable packaging for its private brand packaging by 2025, Phillips says Walmart is seeing some innovation with new materials. "One example is PVC, where we're working with our suppliers to transition over to a recyclable PET material," she says. "We're also seeing interesting new materials that are corrugated-based that are very sturdy and so allow us to eliminate the Styrofoam in packages and replace it with a material that is just as strong, but is recyclable.
"We absolutely need more innovation, in particular in the area of compostable materials. While we're seeing some packaging that is industrially compostable, we recognize it's hard for our customers to access. So we need more at-home compostable solutions, especially in the area of food packaging."
Companies in this article