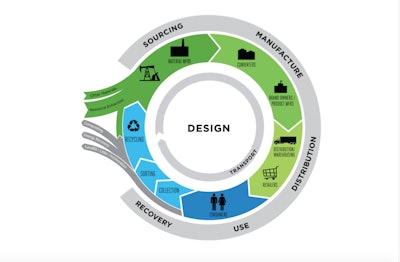 The Sustainable Packaging Coalition has released the free Design for Recycled Content Guide aimed at helping companies make decisions around using recycled content in packaging.
Says SPC, designed for brands looking for opportunities to incorporate more recycled content in their packaging, the guide offers specific and practical guidance on topics such as supply and demand, performance, processing, aesthetics, design, and cost of all different material types. It also dispels myths about using recycled content, but pragmatically acknowledges existing challenges to identify future solutions.
The guides covers the following packaging material types:
PET
High-density polyethylene
Polypropylene
Polystyrene
Polyethylene film
Paperboard
Corrugated
Glass
Aluminum
Steel
Throughout 2018, the SPC conducted interviews with a variety of industry professionals, including material manufacturers, packaging converters, brand owners, and retailers. Their insights and commentary are included in the guide to shed light on what they see happening in the quickly evolving field of sustainable packaging.
"It's great to see ambitious corporate packaging sustainability goals, but what's arguably more exciting and meaningful is laying down actionable frameworks to allow and encourage those aspirations to come to life," says Kelly Cramer, Director, Program Management at GreenBlue. "To that end, Sustainable Packaging Coalition is hopeful that its Design for Recycled Content Guide better illuminates what that path can or should look like for companies to make more circular packaging."
The guide is free for both SPC members and non-members. It will be updated as new technology comes on the market and more information becomes available.