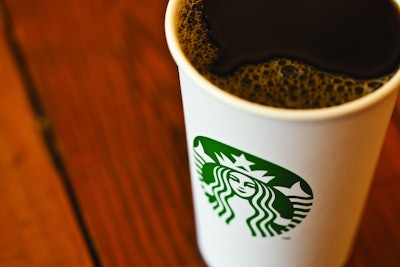 Are you among those who believe paper coffee cups can't be recycled? It's a common misconception. But they can be—and cost-effectively too. The fact is, the inconsistent collection of used coffee cups across municipalities, a lack of resources to extract them at sorting centers, and a dearth of specialized equipment at MRFs have resulted in nearly 60 billion single-use coffee cups that could have been recycled ending up in landfills each year in the U.S. The challenge with hot cups versus other fiber products—and one reason that's led to the belief that they are non-recyclable—is that the polyethylene liner inside the cup needs to be removed during the recycling process so the fiber can be recovered.
In January 2018, Starbucks formed the Cup-to-Cup: Closing the Loop partnership project to prove that recycling its single-use paper cups and using the recycled fiber to create new Starbucks cups is possible. Its partners included recycled-fiber provider Sustana, papermaker WestRock, and package supplier Seda North America, the latter two of which have been working with Starbucks since 2006 to provide cups with 10% recycled content.
Explains Jay Hunsberger, Sustana's Vice President of Sales for North America, "With Cup-to-Cup, Starbucks wanted to demonstrate in a specific moment in time to their shareholders that they could in fact recover cups, put the cups back into the system, and put the content back into a cup."
Says Rebecca Zimmer, Global Director of the Environment for Starbucks Coffee Co., "At Starbucks, so much care and attention has gone into the sourcing of our coffee, the roasting of that coffee, the brewing of that coffee, and the handover of that coffee in a cup from barista to customer. It's about that cup now."
During the eight-week project, Starbucks provided 18 truckloads of cups, 25 million in all, from excess inventory to Sustana's recycled fibers facility in De Pere, WI. There, the cups were mixed with water and went through a high-consistency pulping process where they were ground into a pulp by a corkscrew rotor. During pulping, the PE liners began to separate from the cup. The fibers were then screened and washed to remove impurities and ink, and to separate the interior plastic lining.
Next the fibers were thickened in a de-watering process after which they were cut into sheets, which were baled and transported to WestRock's paper mill in Evadale, TX, to be turned into paperboard. That paperboard was then used by Seda to create new Starbucks cups with 10% recycled content that behaved exactly the same as those Seda has been producing for Starbucks.
The trial was a success in proving that a closed-loop system for coffee cups is achievable, but the underlying challenges that have prevented them from being recycled will need to be addressed before such a system is put in place. According to Hunsberger, a study from WestRock shows that 60% of food packaging goes home with the consumer, making collection a huge barrier. "There are very different models that have been built organically in each particular locality," he says. "So when you think about how these things are fragmented, there is no common solution to waste management. That's really the crux of it."
However, Hunsberger says he does see momentum building, as municipalities begin to understand that if they tell their residents to put the cups into their recycling bins, there are companies that will take the items from them. Sustana has a history of accepting multilayer packaging comprising fiber and polyethylene, having worked with aseptic cartons, while WestRock has announced they will take coffee cups in their MRF system.
Through the NextGen Cup Consortium, Starbucks is continuing to work with brand owners such as McDonald's and The Coca-Cola Co. and with others across the supply chain to find a solution for the recovery and reuse of fiber-based hot and cold cups on a global scale.
Watch a video on the project.
Companies in this article