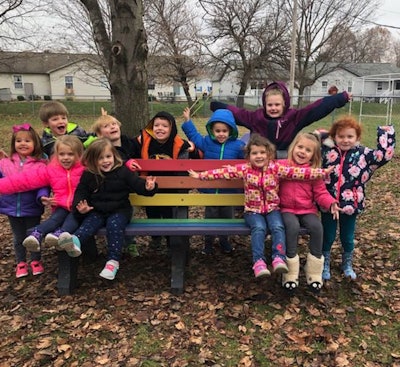 Green Tree Plastics has quietly amassed an army of children across America who recycle plastics for a good cause and in turn remove plastic waste from the environment. Their initiative, called the ABC Partnership Program, provides a vehicle to assist youth organizations in collecting plastics closures for recycling and eventual reuse in the manufacture of various outdoor bench products.
"The ABC Partnership was started by kids for kids and is meant to be an educational tool for any adults managing youth organizations," says Cara Bernfeld, Vice President of Green Tree. "It offers the opportunity to learn the value of recycling and being a good caretaker of the environment".
To facilitate this effort, Green Tree's web site has a complete guide to assist the organizations in starting up a project, outlining acceptable cap types, and ordering/delivery instructions. They also use social media to highlight and showcase successful projects.
By collecting and sorting enough discarded plastic caps, the kids can purchase various bench products, like picnic benches, park benches, buddy benches, and more from Green Tree at discounted prices. Participating groups can include day cares, Sunday schools, elementary/middle/high schools, YMCAs and YWCAs, Scout groups, Boys and Girls Clubs, sports teams, choirs, and more.
"Our program is not just about gathering caps and making benches," Bernfeld says. "At the core of the program is the process of children learning to manage a project with specific goals, working with adult mentors, networking within their neighborhoods and community, and finally instilling an energy and spirit about their role as a steward of the environment."
To date, Green Tree has worked with more than 5,000 youth organizations across 33 states and have made over 15,000 benches over the last eight years.