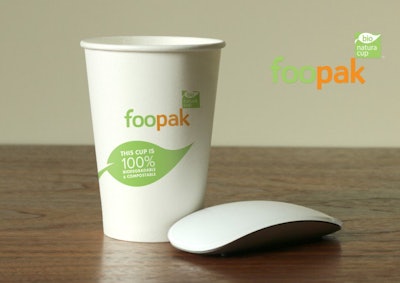 Asia Pulp and Paper joined with its North American strategic partner Charta Global at PACK EXPO to showcase new food-grade, recyclable, compostable, and biodegradable foodservice packaging, the need for which Christopher Wong, VP, Export Sales, Industrial White BU – APP Indonesia, explained is supported by new research conducted by the company. The research, "2018 Paper & Packaging Consumer Trends Report," found that 65% of consumers agree that sustainable food packaging is more important to them today than it was five years ago. This holds especially true among Baby Boomers (67%) and Millennials (66%).
Said Wong, "Consumers are becoming more aware of the transfer of chemicals into food from plastics, and they are becoming more aware of the renewability of paper."
In response, APP has developed new Bio Natura foodservice packaging products under its foopak line. The products are made from 100% compostable, recyclable folding boxboard that is suited for fast-food, takeaway containers and hot beverage cups. Other products in the suite include grease-proof papers, boards, and bakery liners. At the show, APP exhibited its coffee cup and food container products.
As Wong and Atul Tyagi, Regional Sales Head, America, Oceania & MEA, Ind. White-Paper Business, APP sinarmas, explained, typically coffee cups and foodservice containers incorporate a polyethylene film liner, which prevents them from being recycled. Early alternatives included cups lined with PLA; this material, however, could not withstand high temperatures. APP's cup stock can sustain heat up to 440 °F/220°C, and because it is made with a water-based coating, it is fully compostable, biodegradable, and recyclable.
Foopak Bio Natura cup stock is FDA-certified and meets the FTC's Green Guides for biodegradability and compostability. Testing by the ISEGA Institute shows scientific evidence the stock can completely break down and return to nature by decomposing in a matter of 12 weeks. Additionally, Bio Natura can be safely composted in a facility or home compost pile.
The interlocking food container, which can be used for cold and hot applications (it is even microwavable) is now available in the U.S. The cup stock is available as well, but APP is working to reach the converting speeds required by most large foodservice companies.
Companies in this article