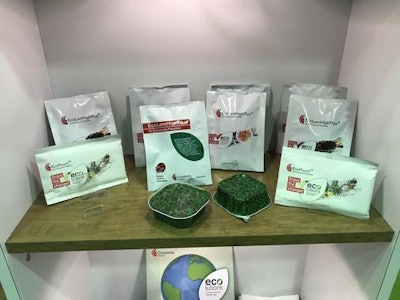 In its quest to create environmentally friendly yet cost-effective and functional packaging solutions, Constantia Flexibles developed a new, more sustainable packaging line called Ecolutions that made its debut at PACK EXPO 2018.
Ecolutions meets sustainable requirements, reduces the carbon footprint of packaging, focuses on recyclable solutions and decreases the impact on the environment. In addition to the sustainable characteristics, the packaging solutions have all the properties required to protect the packaged products.
As part of the Ecolutions lines, the EcoLam, EcoLamPlus and EcoLamHighPlus are made of a mono PE laminate. The lightweight packaging features an OPE/PE structure that is fully recycle-ready due to its mono-material structure. In addition, its carbon footprint is approximately 32 percent less than comparable products.
The EcoLam, EcoLamPlus and EcoLamHighPlus have varying degrees of moisture and oxygen barrier properties that don't compromise sustainability. The EcoLam is designed for products such as dry pet food and laundry powders and tabs. The EcoLamPlus's oxygen and moisture barriers make the packaging suitable for meat, cheese and dairy products in pouches, while EcoLamHighPlus provides an additional high barrier against both moisture and oxygen, making it ideal packaging for salad dressings as well as coffee beans. Typically high-barrier packaging is made from multimaterial laminates, but the lamination of different material groups can hamper the recycling process. The EcoLam, EcoLamPlus and EcoLam HighPlus combine excellent barrier properties with the environmental benefits of a mono-material, which can be fully recycled.
EcoCover, a C-flex lid, is also part of the Ecolutions line. With these lids, Constantia expects to reduce its carbon footprint up to 50 percent, which is achieved by downgauging the aluminum thickness, saving valuable resources in the process. Although the thickness of the aluminum layer is reduced, the material can still be identified as aluminum and sorted for aluminum recycling. In combination with UV-Flexo printing the production of EcoCover is also completely solvent free. The product is also characterized by a high corrosion resistance, a wide range of sealing temperature as well as easy peeling properties. The EcoCover is intended as a lid for yogurt cups, other food and pharma products.
The Ecolutions line also includes EcoTainerAlu, an aluminum-around foil container system mainly used for pet food. Thanks to a new, water-based – instead of a solvent-based – coating system for the container as well as for the punched lid, the emission of volatile organic compounds (VOCs) can be avoided. In addition, no chromated foil is used for this packaging solution, and it is recyclable via the aluminum recycling stream. So EcoTainerAlu fulfills sustainable requirements, but also preserves the packaged product.
"As the world's fourth largest flexible packaging producer, we know about our responsibility towards the environment as well as the requests of the end consumers. Thus, our goal is to drive a change in the industry for more sustainable packaging solutions," says Alexander Baumgartner, CEO of Constantia Flexibles.