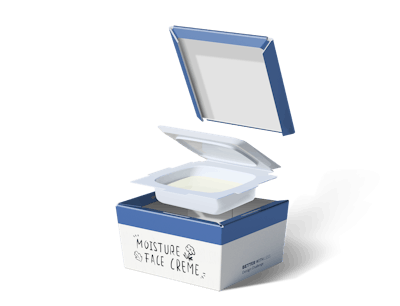 The winner of the international packaging design competition Better with Less – Design Challenge has been announced along with three honorary mentions and a student winner. Organized by European fiber paperboard producer Metsä Board, the competition was created to find new environmentally friendly and functional packaging solutions for some of the world's most frequently used and fastest growing types of consumer packages.
The winner of the challenge, Stretching Inner Part, an alternative to bubble wrap from Iiro Numminen, was considered by the judges to be extremely appealing, versatile, scalable, and easy to implement. Submitted in the e-commerce category, the corrugated box with an insert allows variable-sized products to stay attached to the package during transportation without the need for plastic inserts of bubble wrap. Numminen will receive €10,000 for his winning design.
"The balance between the rigidity of the board and the strength required to support the product weight is well thought through," states the competition jury Chairperson Cyril Drouet, Design & Innovation Director of Metsä Board.
The three honorary mentions are:
Plastic Banning Toilet Roll by Jeroen Caelen. Submitted in the wild-card category, the hexagonal paperboard tube doubles as a toilet paper roll holder. (Note: it was also chosen in the public voting as the favorite design.)
The Moisture Face Cream Cosmetic Package by Abdullah Cam. Submitted in the cosmetics category, the reusable paperboard package with a changeable plastic inner component makes plastic or foil coating unnecessary and recycling easier.
TWIST by Pawel Krawczugo. Also submitted in the cosmetics category, the functional packaging is intended for cosmetics as well as other industries, for small cylindrical items such as toothbrushes, mascara, eyeliner, and other types of applicators.
The student winner, Alessandro Grossi,won a summer internship with Metsä Board's packaging services team in Shanghai. His submission,The Playing Nature, is a snack packaging design that transforms into small finger puppets for children.
"These all represent functional and fresh package designs with sustainability and consumer experience at their core. Consumers are looking for brands and packaging that engage them, entertain them, and most of all, connect them with good storytelling," Drouet explains. The international competition jury included renowned packaging design experts from various fields related to packaging, design, brand strategy, and innovation.
Companies in this article