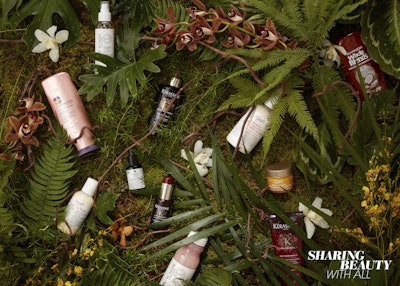 L'Oréal USA has announced major milestones in its sustainability efforts, achieving 100% renewable electricity for its U.S. manufacturing, reducing its carbon emissions by 84%, water usage by 52%, waste per finished product by 43%, and making considerable improvements in package design.
Key projects across the country included massive solar projects in Arkansas and Kentucky, wind turbines in Texas, and an eco-design tool used across the company to assess the environmental impact of each product's life cycle. These efforts helped the company achieve a 67% reduction in carbon emissions worldwide from a 2005 baseline—a global goal exceeded four years ahead of schedule through its sustainability program, Sharing Beauty With All. This reduction was achieved while the company simultaneously increased its production by 29%.
In L'Oréal's 2016 Progress Report, Chairman and CEO Jean-Paul Agon speaks to the importance of these milestones and the impacts of climate change: "We have achieved and even exceeded our target of a 60-percent reduction in CO2 emissions, four years ahead of schedule. This is the result of an immense amount of work by all the teams concerned. It also sends out a strong signal: we are continuing to dissociate our growth from our environmental impact. While climate change is a major challenge, and we are already seeing its effects on the most vulnerable populations, our commitment is stronger than ever."
"As the worldwide leader in beauty, we have a responsibility to lead, and our efforts in 2016 demonstrate an unprecedented level of commitment," says Alexandra Palt, Chief Sustainability Officer for L'Oréal. "The progress made by our Sharing Beauty With All sustainability program reflects the innovative spirit that is hard at work at L'Oréal, especially in the United States. We remain committed to being a sustainability leader here and around the world, and look forward to exceeding our goals in the future."
In addition to substantial carbon improvements, 2016 was a pivotal year for the worldwide program, marked by a 48% reduction in water consumption and a 35% reduction in waste per finished product from a 2005 baseline.
Regarding sustainable product innovation, L'Oréal has pledged that 100% of its new or renovated products will have an improved environmental or social profile by the year 2020 and as of 2016, 82% already showed such an improvement. The company also piloted a proprietary eco-design tool to assess the environmental impact of each product's life cycle. To date, L'Oréal has screened more than 40,000 formulas, gaining valuable insights about the environmental profile of each type of formula while maintaining the product efficacy and consumer benefit.
An example of sustainable innovation in the U.S. is the development of the Biolage R.A.W. line, which now boasts a 100%-recycled plastic bottle and uses a 98%-biodegradable formula. The product line, manufactured in Florence, KY, has set a new standard in haircare, says the company. Other products manufactured in the U.S. now use bottles with 50%-recycled plastic, including Pureology Pure Volume Conditioner, and Garnier Fructis.
Companies in this article