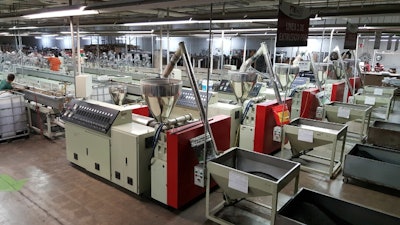 customers and converts the material into moulding for a range of products.
PTM Images, a manufacturer of home décor and furnishings, has completed a new polystyrene recycling facility in San Luis Rio Colorado, Mexico. Expanded polystyrene and high-impact polystyrene material is collected from its U.S. retail customers, diverting it from U.S. landfills and giving the material a new life. PTM prevents more than 50 truckloads of packaging material, coolers, and foodservice containers from being dumped into U.S. landfills.
PTM converts the recycled material into mouldings used in the production of mirrors, picture frames, and wall décor. PTM on-shored the production of moulding and integrated this technology into its 300,000-sq-ft production facility. PTM shifted its supply chain from China to the U.S., where the company can utilize over 80% of U.S.-based raw materials.
"Our customers vote every day with their wallets. Sustainability is extremely important to them. There are clearly solutions for difficult-to-recycle waste streams," says Jonathan Bass, CEO, PTM. "Retailers must provide a solution to reduce their environmental footprint, and PTM partners with our customers to find solutions. The Consumer is rewarding companies and retailers that honestly put our planet first."
PTM says it has made strides in reducing the waste it emits through reducing its consumption of energy and water, and creating a healthier and more efficient factory environment. PTM believes this will ultimately lead to improved efficiency and a competitive advantage for its customers.