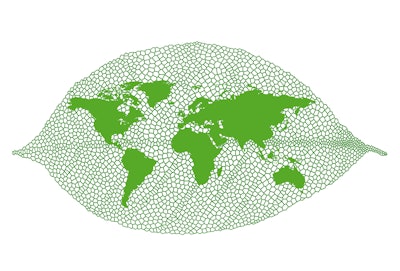 According to a new market report, "Green Packaging Market - Global Industry Analysis, Trend, Size, Share and Forecast 2015 – 2021," the market for green packaging is expected to report a 6.2% CAGR between 2015 and 2021. The report, from market intelligence firm Transparency Market Research (TMR), pegs the overall value of the global green packaging market at $132.4 billion in 2014. The market is expected to reach $203.1 billion by the end of 2021.
As defined by TMR, green packaging or sustainable packaging uses biodegradable materials to offer improved sustainability. The packaging involves life-cycle assessment (LCA) and ensures increased life-cycle inventory (LCI).
According to the report, the green packaging market is being steered by rising health awareness among consumers. As consumers become more health-conscious, a paradigm shift toward healthy and biodegradable packaging is being observed. The demand for green packaging is thus increasing due to the health benefits it offers, says TMR. Furthermore, increasing environmental concerns are also bolstering the market, as green packaging's contribution to environmental pollution is thought to be negligible. Additionally, the shortage of natural resources has also boosted the demand for green packaging, since some is recyclable.
On the flip side, reports TMR, diminishing profit margins owing to the rise in production cost is a primary factor inhibiting the growth of the global green packaging market. Furthermore, a lack of awareness among consumers has also negatively impacted the demand for green packaging. Nevertheless, the market is expected to significantly gain from rising government initiatives for keeping the environment clean and pollution-free.
Based on packaging type, the report segments the green packaging market into recycled-content packaging, reusable packaging, and degradable packaging. In terms of application, the market is segmented into food and beverages, personal care products, healthcare packaging, and others. Of these, food and beverage packaging dominated the market in 2014, accounting for a share of 59.7%.
Regionally, the global green packaging market is segmented into Europe, Asia Pacific, North America, and the rest of the world (RoW). The U.S. has emerged as the biggest green packaging market in the world due to favorable government policies encouraging the large-scale use of eco-friendly packaging. Furthermore, the global market is also significantly gaining from the rising demand in emerging economies of Asia Pacific, such as India and China.