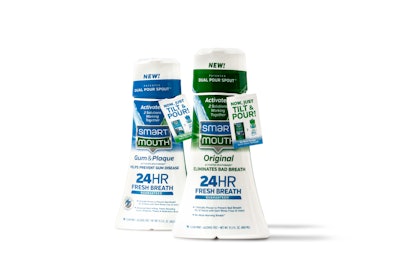 TricorBraun won the National Assn. of Container Distributors (NACD) Bernard M. Seid Best of Show Award with its SmartMouth Mouthwash package, an innovative, sustainable and user-friendly package that keeps the unique mouthwash's critical ingredients separate until needed, then mixes them in proper balance as they are being poured.
The award was announced April 7 at the NACD Annual Convention at the Ponte Vedra Inn & Club in Ponte Vedra Beach, Florida. Tricor Braun earned
seven awards overall, including two Gold, one Silver and three Bronze Awards, as well as the Bernard M. Seid Best of Show Award and the People's Choice Award. It's the seventh straight year that TricorBraun has won at least one Gold award at the NACD Awards, and the fourth year of the past five that it has won Best of Show.
TricorBraun packages won Gold Awards in the drug and pharmaceutical and general industrial categories, and a Silver Award in the general industrial category. The company also won Bronze Awards in the beverage, novelty and cosmetic and personal care categories. The TricorBraun packaging for Arta Tequila added to the company's honors by winning both a bronze award and the People's Choice Award.
Companies in this article