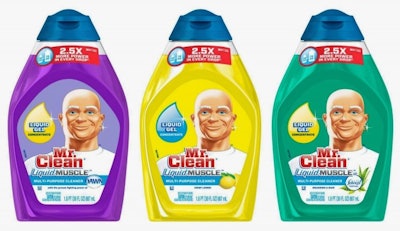 The Procter & Gamble Company has released its 16th annual sustainability report, which the company says details projects and goals that are reducing its environmental footprint and that of its customers, while improving social conditions for those having the greatest need.
The report highlights P&G reaching its waste reduction goal six years early and its pulp certification goal a year early, and growing to 70 the number of global facilities delivering zero manufacturing waste to landfill (see video). In addition, P&G delivered its 7 billionth liter of clean drinking water through The P&G Children's Safe Drinking Water Program (CSDW) and delivered disaster relief to millions of people around the world.
"Our teams are driven to make a significant, positive, and lasting impact on the communities we serve through our operations, product designs, and innovative partnerships, and this year's report showcases the results of that dedication," says Martin Riant, P&G Executive Sponsor of Sustainability and Group President, Global Baby and Feminine & Family Care. "Our work to drive zero manufacturing waste to landfill across our manufacturing facilities has exceeded expectations with nearly 50 percent of our sites achieving this goal since 2010."
Packaging progress, new goals
Among the achievements detailed in the report is P&G's work in reducing the use of packaging, citing its Mr. Clean Liquid Muscle cleaning product. The cleaner includes a 2.5x compaction formula and uses 45% less packaging and 64% less water per bottle, along with a unique single-dosing cap that ensures people don't use too much.
"We continue to make good progress on designing and shipping more efficient packaging, having achieved a total reduction of approximately 7 percent per consumer use since 2010," says P&G in the report. "Consumers moving to more efficient products and packages, reductions in packaging used to ship product, and new innovative materials and designs have all contributed to reducing our packaging use."
In October 2014, P&G announced two new goals around packaging: to double its use of recycled resin in its plastic packaging by 2020, and to ensure that 90% of its packaging is either recyclable or that programs are in place to develop the ability to recycle it.
"While we have a long history of working on source reduction, recycled content and recyclability, our new packaging goals will drive our progress even further," the report notes.
Other areas of impact
The report also details P&G's work on:
Waste, exceeding its waste reduction goal by achieving only 0.4% of input materials being disposed of as manufacturing waste to landfill across all its facilities; the goal called for less than 0.5% by 2020.
Pulp, exceeding its third-party certification goal by having 54% of the virgin wood fibers used in its tissue and towel products from Forest Stewardship Council®-certified sources; the goal called for 40% by 2015.
CO2, reducing total emissions by 14%, and installing two cogeneration energy systems that will considerably reduce CO2 emissions, including 120,000 less metric tons per year at its largest global plant in Mehoopany, PA.
Cold-water washing, helping drive to 53% the number of machine laundry washes done in cold water through consumer education programs, closing in on its goal of 70% cold-water washes, as washing in hot water is one of the largest uses of energy in a family home.
Water, committing to 25% less water in every dose of liquid laundry detergents sold in North America by 2018.
Product Formulation, committing to another round of compaction in its liquid laundry detergents by 2018 in NA, with 25% less water, less CO2 and less plastic.
Social programs, exceeding its goal of improving the lives of 50 million people annually through its social programs, including Disaster Relief and CSDW.
"Our teams, in collaboration with some leading external partners, have delivered high-impact innovations and projects, helping us exceed goals in two key areas of the business, and closing in on others," says Riant. "We recognize that there is more to be done and are committed to focusing on areas where we can make the biggest positive impact."
Companies in this article