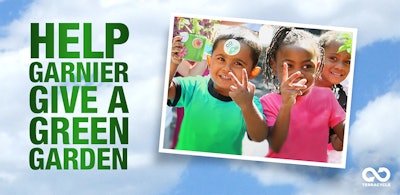 After transforming over 1,500 lb of recycled personal care packaging waste into a one-of-a-kind Garnier Green Garden in Harlem and overhauling a garden at a special needs school in the Bronx, Garnier and TerraCycle took their eco efforts on the road with the "Where Should Our Garden Grow?" campaign to award one recipient with a new community garden. After a public voting period, The ReFresh Project of New Orleans has been named the winner.
The campaign, which kicked off in Earth Month and ran through June 15th, asked fans to vote for which deserving community should win its very own Green Garden. The ReFresh Project's ReFresh Community Farm is a new teaching farm located in Treme/Mid-City New Orleans. The new garden will be capable of yielding more than 2,000 lb of vegetables, fruit, herbs, and flowers. It will not only provide New Orleans residents with a safe space to connect and enjoy nature, but will also allow community members to grow their own fresh food locally. The ground breaking is expected to take place this fall.
The plastic components of the garden, such as raised beds, picnic tables, and trash receptacles are made from recycled beauty-care packaging waste collected through Garnier's Personal Care and Beauty Brigade®. The Brigade is a free fundraising program that donates money to a charity of the collector's choice for every piece of beauty and personal care packaging waste returned to TerraCycle for recycling. The collected waste, which would otherwise be destined for landfills, consists of non-recyclable hair care, skin care, and cosmetic packaging.
"We are thrilled to announce The Refresh Project in New Orleans as the community where the next Garnier Green Garden will plant seeds and flourish," says David Greenberg, President of Maybelline New York-Garnier-essie. "Keeping beauty packaging waste out of landfills is only part of the mission. It is equally important to make sure that we help communities across the country create sustainable gardens and playgrounds, and this is a perfect way to use the beauty waste we've been able to collect through our Brigade. We are excited to see this project come to life."
Companies in this article