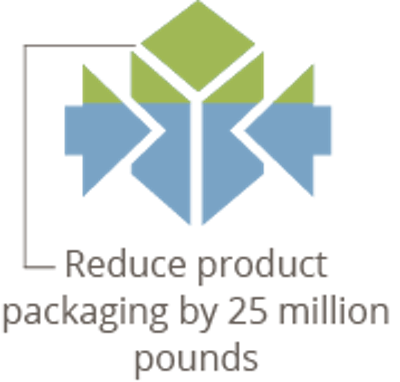 Hormel Foods Corp. has released its 2013 Hormel Foods Corporate Responsibility Report—the eighth corporate responsibility report for the company. The 2013 report includes information on Hormel's second set of environmental goals that span from 2012 to 2020 using 2011 as a benchmark. The report is self-declared Application Level B as confirmed by the Global Reporting Initiative (GRI).
The annual report focuses on the company's commitment to being a responsible food manufacturer. In the area of packaging, one accomplishment highlighted is the reduction of packaging by 4.72 million lb. This is an achievement of 35% of Hormel's 2020 goal (reduce product packaging by 25 million lb) when combined with 2012 progress.

When it comes to packaging design, Hormel has a group of employees who continuously look for minimization opportunities, and each member participates in an initiative to reduce materials in packaging. In 2013, this team initiated more than 60 total projects and completed 37 projects. Combined, these projects resulted in 4.72 million lb in savings.

The top project minimization projects in 2013 include:
• Excess space was eliminated inside the brown carton of Hormel Natural Choice deli meat packaging. By reducing the packaging from roughly 8 x 6.55 in. wide, Hormel was able to reduce the amount of paperboard, film, zipper, and corrugated materials used, which resulted in a savings of roughly 800,000 lb of packaging material.
• Hormel introduced a machine set-up with case packer and palletizer for its cooked hams line. The cases were redesigned to run on the automated line, which resulted in an annual savings of 596,000 lb.
• The company optimized the shipping case design for its retail 1-lb Hormel bacon by changing from a full-overlap case to a 1-in. overlap case, resulting in a savings of more than 364,000 lb.
• Eliminating a j-board (paper carrier board) by moving to a fully printed film for its 1-lb retail turkey bacon resulted in a savings of 314,132 lb.
• Hormel switched to an industry-standard tote bin design and eliminated an internal insert, which amounted to a savings more than 1,279,000 lb.
Other achievements focused on social responsibility programs as well as reductions in the use of water, energy, solid waste, and electricity, to name a few.

In alignment with the company's commitment to philanthropy and in honor of the launch of the eighth annual report, Hormel Foods will feature an online trivia sweepstakes. For every person who engages in the sweepstakes or tweets about the release of the 2013 Hormel Foods Corporate Responsibility Report using #HormelCR, the company will donate $8 to hunger relief charity Feeding America (up to $5,000). Feeding America is the nation's leading domestic hunger-relief charity.


Companies in this article