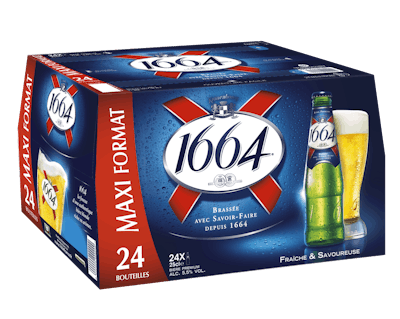 Carlsberg and selected global suppliers have joined forces to rethink the design and production of packaging material, to develop the next generation of packaging products that are optimized for recycling and reuse, while at the same time, retaining or improving their quality and value. The approach, says Carlsberg, is increasingly referred to as "up-cycling." The cooperation has been formalized through the Carlsberg Circular Community as part of the Carlsberg Group's work on sustainable packaging.

The founding companies working together with Carlsberg are:
• Rexam: Cans
• Arkema: Glass bottle coatings
• O-I: Glass packaging
• RKW: Shrink Wrap
• MWV (MeadWestvaco): Paperboard multipacks
• Petainer: PET kegs for draught beer
Rethinking the concept of waste
In the future, Carlsberg says, we are all facing increasing pressure on natural resources due to the ever-increasing demand for consumer goods. This is creating further demands on businesses to use materials more efficiently. However, the current efficiency approach adopted by industry is unlikely to be sufficient to affect long-term sustainable change, the company adds.
Reducing dependence on primary materials as the input to creating these consumer goods is one of the ways companies can secure continued sustainable growth. Earlier studies by the Ellen MacArthur Foundation and McKinsey & Co. project billions of Euros in savings from stimulating economic activity in product development, remanufacturing and refurbishment1.
The companies will be using the Cradle to Cradle® Design Framework, created by Professor Michael Braungart and William McDonough with their companies EPEA Internationale Umweltforschung GmbH and MBDC, LLC, to develop a Cradle to Cradle roadmap and assessment of their products.
Says Braungart,
"Carlsberg and its suppliers are taking an important step on the roadmap toward creating new benefits with packaging. This cooperation is a great example of companies planning together for the future, creating solutions to the global challenges that face us all. I encourage companies to join Carlsberg in its efforts to develop innovative packaging and rethink the concept of waste."
Carlsberg Circular Community
As Carlsberg explains, Cradle-to-Cradle is a business platform for innovation and quality, with the aim of improving the quality of products so that they:
• Have an improved consumer quality for the user
• Pose no health risk for anyone who comes into contact with them
• Are of both economic and ecological benefit
"We want to build our resilience and prepare for future growth in an environment of increased resource scarcity. And we want to develop solutions that benefit not only our business, but also the environment and the societies in which we operate. The packaging initiative and the cooperation with suppliers represent a big leap forward. By partnering with our suppliers, we can achieve far more than each of us can do alone," says Jørgen Buhl Rasmussen, President and CEO of Carlsberg Group.
With this initiative, Carlsberg aims to have new products undergo an assessment for up-cycling potential using a Cradle-to-Cradle analysis, which will reveal if the products contain any chemicals or additives that would reduce the value and quality of the materials. The targets are to include 15 partners and to have a minimum of three products Cradle-to-Cradle-certified by 2016.
Carlsberg says that it is already using solutions that reduce reliance on natural resources, such as refillable glass bottles, which in some markets are used more than 20 times, and the beverage can, which is infinitely recyclable. One of the key challenges that the initiative will focus on is creating solutions that are both sustainable and appeal to the consumer.
Following the first phase, further analyses will be done as regards to how the initial findings can be used to create new products and solutions that can contribute to up-cycling for a resource-efficient economy and society. Carlsberg's ambition is to be a frontrunner for circular economy materials by leveraging Cradle-to-Cradle innovation and quality.

1Ellen MacArthur Foundation. Towards the Circular Economy vol.1. 2012.
Companies in this article