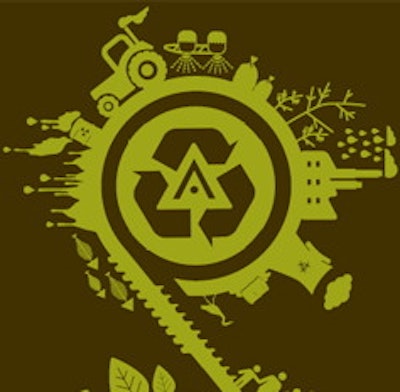 Aveda has introduced its new Full Circle recycling program in the U.S. Aligned with the Cradle-to-Cradle® design philosophy, which focuses on the principles of a "no-waste" society, Aveda says its goal is to eliminate waste and create something to make a positive difference in the world.

Partnering with g2 revolution®, a recycling innovations company, Aveda will provide guests the chance to return Aveda packaging not accepted by some municipal curbside recycling programs to all 107 Aveda Experience Center retail locations in the U.S. The Aveda packaging collected will be sorted to be recycled into reusable material, with the goal of making it into new Aveda packaging or accessories, thus helping to prevent Aveda packaging from going to landfill.

"At Aveda, we find inspiration in nature and believe that it should be emulated as a model of sustainability. Aveda is committed to developing products that can be responsibly sourced, manufactured, used, and then returned to the natural world. We also develop packaging with high levels of post-consumer recycled content that can be continuously cycled in the industrial world," says Dave Rapaport, Vice President Earth & Community Care for Aveda. "The reality is that municipal programs vary in the types of materials they are able to recycle. Aveda is committed to a no-waste philosophy. We know this program can make a difference. The success of our pilot program in Colorado in 2011-2012 reported that 98 percent of the materials received were recycled into reusable material."
In an effort to continue to bring sustainability full circle, g2 revolution launched the "Feed the Future" program in January 2013 in cooperation with the West Ohio Food Bank. For every Full Circle recycling bin processed for recycling, g2 revolution will donate funds that will allow the West Ohio Food Bank to purchase 2½ pounds of food.

According to Aveda, the Full Circle recycling program is the latest step in the brand's environmental commitment, seeking to take responsibility for all Aveda packaging in the U.S. Aveda continues to be mindful of its environmental footprint and has engaged in other packaging-specific environmental activities, including:
• Minimizing packaging, maximizing the use of post-consumer recycled materials, using materials that can be and are recyclable, and by designing packaging so that the individual parts can be separated for recycling.
• Building on the success of the Aveda Caps Program. In 2008, Aveda created the first bottle-cap collection program of its kind in the continental U.S., helping to eliminate this type of plastic from landfills and waterways, and educate recyclers and municipalities about the need to accept #5 plastics at curbside—collecting more than 115 million plastic bottle caps. Newly molded 85% post-consumer recycled content caps are now included on Aveda products such as Full Spectrum™ Hair Color and retail sample tubes due to the success of the Aveda Caps Program.
To participate in the Full Cycle recycling program:
1. Check with your local recycler to determine what types of materials are accepted via curbside service. Municipal recycling programs vary on the types of items accepted in community programs.
2. Any Aveda packaging not accepted curbside, such as caps, makeup brushes, and various bottles, jars, tubes, and pumps, can be brought into any Aveda Experience Center retail store in the U.S. and placed in the Full Circle recycling bin. Visit Aveda com/locator to find the Aveda Experience Center retail location nearest you.
3. Once full, the Full Circle recycling collection bin will be sent to Aveda's recycling partner g2 revolution in Findlay, OH, where items will be sorted by material category. And, g2 revolution ships all packages under UPS' Carbon Neutral Program. Based upon the total volume of packages shipped, g2 revolution pays UPS to purchase certified vintage carbon offsets to balance out the emissions produced by the transportation of the shipments.
4. All materials will be recycled, reused, or burned for energy recovery—with the intention of utilizing collected material to create new Aveda packaging or accessories.
Companies in this article