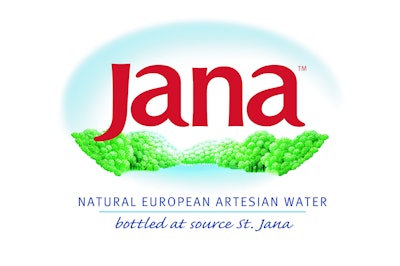 Carbon footprints, water quality, and safety are important topics to consumers. That's according to a recent independent survey conducted on behalf of NSF International that revealed that 55% of safety-minded consumers are concerned about their carbon footprint, and 61% are concerned about the quality and safety of bottled water products. (Safety-minded consumers are defined as U.S. consumers between the ages of 25 to 54 that qualify on at least three of the four following criteria: 1) drink bottled or filtered water; 2) take dietary supplements; 3) read product labels; or 4) seek information on product safety or certification.)
Jamnica, as part of Agrokor Company, is the largest manufacturer of natural mineral water and nonalcoholic beverages in Croatia, with more than 180 years of tradition. To address the environmental impacts of its products, Jana underwent a detailed life-cycle assessment (LCA) to measure the carbon emissions produced from its bottled water products in North America. Jana then offset its carbon emissions through investment in third-party validated renewable energy, energy efficiency, and forestry carbon offset projects provided by CarbonFund.org, a nonprofit developer of the CarbonFree® Product Certification program, the first carbon-neutral product label in North America.
In addition to CarbonFree certification, Jana has held NSF bottled water certification since 2008. This program requires annual product testing and facility audits to ensure ongoing compliance with the strict quality and safety standards of the program.
"The NSF bottled water and CarbonFree certification labels on Jana's bottled water products communicate that Jana is committed to both the health and safety of its customers as well as reducing its environmental impact," says Tom Bruursema, NSF Sustainability general manager.
"Jana is the first product in the region certified by the Carbonfund.org Foundation, Inc. Thus, we are very proud to be environmentally friendly in keeping with our responsibilities as the biggest producer of water in Croatia," says Ivana Petricevic, Jamnica quality director.
Says Cartonfund.org president Eric Carlson, "With more companies recognizing the importance and value of offering carbon-neutral products, carbon content labeling is a vital tool for companies to market their commitment to sustainability. Our CarbonFree label is widely recognized by companies throughout North America as a preferred mark that assures a comprehensive process was used to achieve carbon neutrality."
How certification works
The CarbonFree Product Certification program uses LCAs to determine the greenhouse gas emissions over a product's entire life cycle. GHG emissions (expressed as carbon dioxide equivalents) that cannot be reduced or eliminated from the products' life cycle are offset or "neutralized" with third-party validated renewable energy, energy efficiency, and forestry carbon offset projects.
A carbon offset is a verifiable reduction in carbon emissions somewhere in the world other than where the emission is generated. These external reductions offer clean energy transformation (e.g., wind, solar), sequestration (e.g., forestry), and clean technology (e.g., energy efficiency). The projects also offer a range of benefits, including conservation, clean water, job creation, and innovation. Credits are generated when a project is verified and registered, allowing companies to purchase these credits and offset the emissions produced in the manufacturing and use of their products. These credits are then permanently "retired" on behalf of the product/company.
CarbonFree-certified products earn the use of the CarbonFree mark along with being listed in the Carbonfund.org online product certification database. The CarbonFree mark can be found on a variety of products today, including food, beverage, electronics, and apparel.