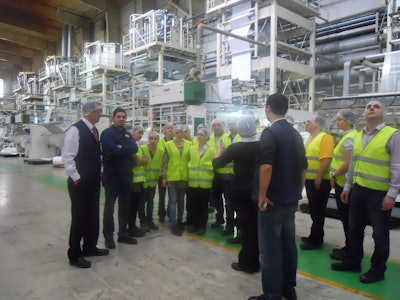 The SusFoFlex Consortium, a three-year European Project under the Seventh Framework Programme (FP7) that focuses on the development of novel, sustainable, and intelligent food packaging solutions for enhanced shelf life, held its first annual technical meeting in November 2012 at Elif Plastik, a global supplier of flexible packging, based in Istanbul, Turkey. SusFoFlex, Smart and Sustainable Food Packaging Utilizing Flexible Printed Intelligence, is coordinated by Oulu University of Finland together with 14 research organizations from eight different countries, including Finland, Hungary, Ireland, Italy, Norway, Portugal, Turkey, and Spain. The results of the SusFoFlex project are expected to open a new era in the Save Food approach to cut food waste and global food losses for a sustainable future.
At the meeting, SusFoFlex team members found the opportunity to investigate Elif's solutions for sustainable flexible packaging to help develop new bioplastic packaging for longer shelf life of food.

According to Elif, the SusFoFlex project has a rather ambitious objective, specifically to deliver a technology that targets exciting new food packaging features that could possibly yield new production/consumption patterns by using cutting-edge sustainable technologies with smart features. The SusFoFlex project is focused on research around intelligent packaging using novel impression techniques and nanotechnology.