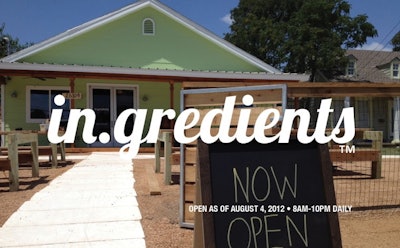 in.gredients has opened Austin, TX's newest grocery store. The neighborhood-oriented microgrocer offers local food with pure ingredients with a community-centric feel. in.gredients reports that its retail space is dense and efficient, offering over 400 products in 1,300 sq ft. The store also offers ready-to-eat foods, beer and wine, and free wi-fi, with outdoor seating and a playground for kids.
"We're excited to bring back the neighborhood grocer," says in.gredients co-founder Christian Lane. "We look forward to serving our community and bringing good food to our neighborhood."
The interior of the store is said to give customers a feel unlike most retail experiences. in.gredients' local-centric, package-free goals for grocery shopping is something many Americans are unfamiliar with.
"We don't want to be like any other store," explains Lane. "What's normal in the grocery industry generally doesn't have the customer's best interests and health in mind. in.gredients redefines the grocery shopping experience and makes shopping simple and sustainable."
in.gredients, which hosted a variety of community-building events during its buildout, hopes to continue to center around groceries and community, and to promote sustainability.
"We want in.gredients to be a place where our community can unite around common causes: good food and sustainable living," says Lane. "Together, we can change the way we eat, shop, and live for the better."
Earlier this year, Greener Package reported on the rise of package-free retail options, as well as on the development of in.gredients specifically, discussing the pros and cons of this new trend.