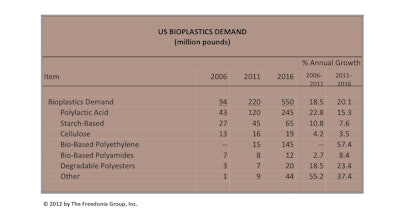 U.S. demand for bioplastics is forecast to climb at a 20% annual pace through 2016 to 550 million pounds, valued at $680 million. Although they have achieved a considerable degree of commercial success, bioplastics remain in an early stage of development, representing only a small niche within the overall plastics industry. Going forward, technical innovations that enhance the properties of bioplastics and lower their price will drive growth. These and other trends are presented in "Bioplastics," a new study from The Freedonia Group, Inc.
Although biodegradable resins accounted for the vast majority of bioplastics volume in 2011, the emergence of non-biodegradable bioresins will dramatically alter the market landscape going forward. By 2021, these materials will represent more than two-fifths of volume demand, up from 1% in 2011. Growth will be propelled by large-volume production of bio-based polyethylene, as well as the eventual commercialization of bio-based PET, polypropylene, and polyvinyl chloride. Since these resins are chemically identical to their conventional counterparts, market acceptance is forecast to occur at a rapid rate. Among these bio-based plastics, PET is projected to offer significant growth potential over the longer term, particularly as large corporations—especially those in the soft drink industry—are investing heavily in the development of this material.
Polylactic acid is expected to remain the most extensively used resin in the bioplastics market through the forecast period, despite issues regarding the inability of biodegradable products such as PLA to decompose in landfills and their potential to contaminate the recycling stream. Advances will be promoted by a widening composting network and greater processor familiarity, as well as ongoing efforts to diversify PLA feedstocks, as critics cite the food versus fuel debate and the energy- and pesticide-intensive nature of corn production as a key drawback of biopolymers.
Bio-based polyethylene PE, which entered the market in 2010, is expected to offer the best opportunities for growth through 2016, increasing rapidly from a small base. These exceptionally strong gains are predicated on the expansion of production capacity, which will reduce prices and enable this resin to compete more effectively with its petroleum-based counterpart.
"Bioplastics" is available for $4,900 from The Freedonia Group. For further details, please contact Corinne Gangloff by phone 440/684-9600, fax 440/646-0484 or e-mail.