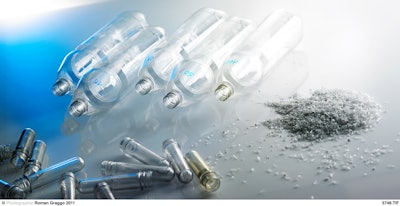 After investing in three wind farms, a biogas system, and several solar power installations that together cover more than 30 per cent of Stute's own energy requirements, this privately owned company will soon be able to completely recycle PET material. The firm will in August 2012 be commissioning Germany's first PET recycling line from Krones. The SuperClean-PET-flake process is able to produce flakes at a high degree of purity, which can be directly used for injection molding new bottle preforms that are subsequently blown into new bottles. Conventional processes, by contrast, require additional steps for creating food-grade recyclate.
With this process, Stute plans to feed back into its bottle production operation both PET bottles and preforms. This also includes bottles that have already come into contact with product. The recycling process washes and decontaminates the rejected PET, thus guaranteeing its suitability for future food-grade applications.
The PET materials waiting to be recycled are fed to the washing system's storage silo. The PET recycling line is made up of a washing module, a decontamination module, and what Krones calls "peripherals." The line is installed on two different levels: the washing module and the decontamination module are spatially separated, with the latter located directly next to the existing injection-moulding machines for producing preforms.
For Stute, the installation is a strategic investment. Instead of using the recyclate to meet in particular China's huge demand for it (as is customary in the sector), Stute wanted to create a sustainable, closed-circuit process within its own production facility right from the start.
Companies in this article