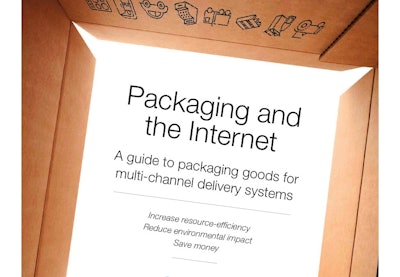 With the growth of e-commerce, the U.K.'s INCPEN (the Industry Council for Packaging and the Environment) has published a guide, "Packaging and the Internet: A Guide to packaging goods for multi-channel delivery systems," to provide advice on designing packaging that will make these new delivery systems as resource-efficient as possible. The guide was developed with officers from the Trading Standards Institute to give guidance to manufacturers and retailers on choosing appropriate packaging.
"Companies have to rise to the challenge of identifying packaging that is appropriate for delivering goods via a number of different distribution systems, to retail outlets as well as directly to consumers at home," says INCPEN director Jane Bickerstaffe.

Notes INCPEN, packaging's most important role is protection of goods from farm or factory to the user. It reduces environmental impact by ensuring that the resources invested in each product, its ingredients, and its supply chain aren't wasted through product damage. On average, at least 10 times-more resources are invested in products than in packaging. Packaging also carries information, helps to market the product, and enables the handling, storage, and use of goods.
Not all of these traditional roles are relevant to home-delivered goods, but there are other roles that are needed, such as responding to courier-specific requirements and including individual addresses.
Key considerations
According to the report, the growth in e-commerce presents an opportunity to assess the whole supply chain, to consider new types of packaging, and to ask some key questions. Among the questions that the report asks and seeks to provide guidance on include the following:
• Can the retail (sales) pack be simplified for home delivery?
• Are there alternative delivery systems or packaging options that reduce impacts and costs?
• Can the outer (secondary grouping and transport) packaging be eliminated or minimized?
• Is there a role for reusable packages?
• Can the outer dimensions be changed to improve pallet fill?
• Is the packaging designed for ease of handling and opening?
• Are the material sources, especially paper, certified as "sustainable"?
• Is the packaging designed according to "good practice" for recycling? 

The report adds, "New supply chains place different demands on packaging and present new challenges and opportunities. The challenge is to design and choose packaging that is cost-effective, protects the goods, and helps make the supply chain as resource-efficient as possible."