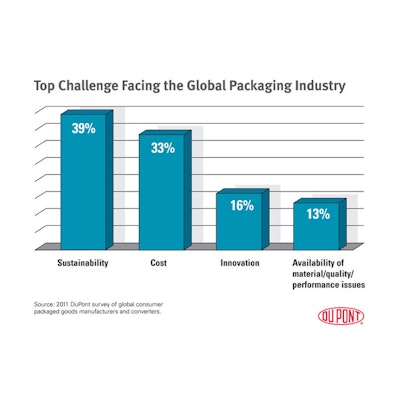 The need to package food, consumer, and industrial products in a more sustainable and affordable way dominates the worldwide packaging industry, according to DuPont's global survey of consumer packaged goods companies and packaging converters. More than 500 packaging professionals were surveyed, and more than 40% cited sustainability as the toughest challenge, while 33% named cost as a major factor.
"Sustainable, cost-effective solutions that reduce packaging's environmental footprint are a top goal across geographies," says William J. Harvey, president,  DuPont Packaging & Industrial Polymers. "This is especially true in the food and beverage industry, where consumer demand for products supporting health and wellness goes hand-in-hand with a demand for more sustainable solutions."
Meeting sustainability challenges requires multiple strategies, according to survey results. Of those respondents working on sustainable packaging, 65% say their efforts are focused on design for recyclability or use of recycled content; 57% are focused on weight reduction; 41% rely on renewable or bio-based materials; and 25% say they are focused on compostable materials.
"These survey results confirm that there are many pathways to improving packaging sustainability," says Harvey. "It starts with close collaboration throughout the value chain to spark innovation."
Methodology
To identify the top issues facing the packaging industry, DuPont conducted an online survey of packaging professionals in March 2011. Of the nearly 500 professionals responding to the open-ended question, 41% were from the U.S., 44% from China, and 15% from the rest of the world. Of the 200 professionals responding to the closed-ended question, 70% were from the U.S., and 30% were from the rest of the world.