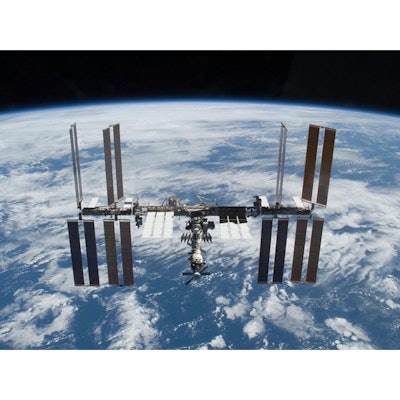 "The use of pharmaceuticals during space shuttle missions is common with crews taking more than 500 individual doses of 31 different medications during the first 33 flights." That's according to a research article, "Evaluation of Physical and Chemical Changes in Pharmaceuticals Flown on Space Missions."
How on Earth did this subject land at Healthcare Packaging? An in-pharmatechnologist.com story, "Space, the final frontier for drug stability says NASA study," led to the research article.
Published online in April 2011, the article was co-authored by Brian Du, Vernie R. Daniels, Zalman Vaksman, Jason L. Boyd, Camille Crady, and Lakshmi Putcha. The article's abstract notes, "Efficacy and safety of medications used for the treatment of astronauts in space may be compromised by altered stability in space. We compared physical and chemical changes with time in 35 formulations contained in identical pharmaceutical kits stowed on the International Space Station and on Earth."
On Earth, temperature and humidity factors are important when designing pharmaceutical packaging for distribution, but what about for the packaging used by shuttle mission crews? Here's what the research article says:
"Efficacious pharmaceuticals with adequate shelf life are essential for successful space medical operations. Therefore, stability of pharmaceuticals is of paramount importance to ensure health and wellness of astronauts on future space exploration missions. Unique physical and environmental factors of space missions such as radiation, excessive vibration, microgravity, and an enclosed and CO2-rich environment, in addition to humidity and temperature variations, may contribute to instability of pharmaceutical dosage forms.
"Alterations in physical and/or chemical stability of a formulation can result in reduced potency. Degradation of pharmaceuticals can result in inadequate efficacy and untoward toxic effects that could compromise astronaut safety and health." Some additional takeaways from the article included:
• "Primarily, medications taken during shuttle flights have been orally administered, although ocular, topical, rectal, and parenteral formulations are included in the onboard operational medical kits."
• "Although amber-colored bottles are effective in protecting drugs from destructive exposure to components of visible light, they do not protect drugs from other forms of radiation that may affect drug stability in space."
• "Contrary to standard dispensing practices on Earth, pharmaceuticals are packed and dispensed in special flight-certified containers and stored in compactly packed kits, and this packaging could affect stability and shelf life of pharmaceuticals in space."
The authors acknowledged that the research was funded by an NRA research grant from NASA, the National Aeronautics and Space Administration. The article's conclusion points out, "Cumulative low-dose radiation and dispensers used for solid dosages in space appear to influence stability of pharmaceuticals in space."