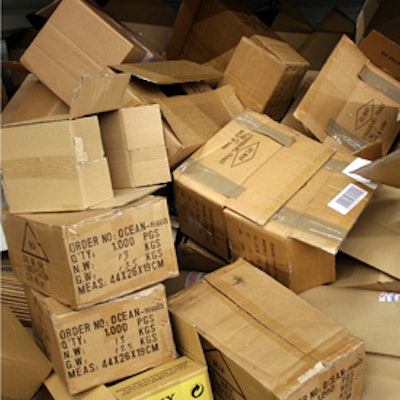 Corrugated Packaging Alliance
(CPA) has completed the first-ever U.S. corrugated
Life Cycle Assessment
, evaluating the performance of a 1-kg U.S. industry-average corrugated product throughout its entire life cycle, "cradle-to- cradle." The aim of the study was to generate high-quality, timely data on the environmental impacts of corrugated packaging.
There were three key findings from the study
Like most manufacturing industries, the raw material manufacturing drives impacts. However, the CPA noted that containerboard mills have significantly reduced their emissions/impact over time. For example, over 65% of the average containerboard mill's energy use comes from biomass, a renewable energy feedstock, the combustion of which does not contribute to global warming emissions.
Transportation has little impact. Long-distance transportation scenarios (based on national averages) were modeled, yet still represented a minor influence on overall life-cycle impacts for all impact categories.
End-of-life impacts global warming potential. The study indicates that end- of-life as modeled, based on 2006 industry data, can impact global warming potential. Corrugated products are currently the single most-recycled packaging material. In 2006, 78% of U.S. shipments of corrugated were recovered for recycling. Today, that number has grown to 81.2%, with almost all of that material being recycled into new products. In addition, the average corrugated product contains 46% recycled content. These high recovery rates mean less material goes to landfills, which results in fewer greenhouse gas emissions from their disposal.
The LCA was conducted according to the International Organization for Standardization (ISO) 14040/44 standards by Five Winds International and PE Americas and included the review of an expert panel. Results of the LCA will be used to populate the U.S. Life Cycle Inventory (USLCI) Database, the EPA WARM model, and the Sustainable Packaging Coalition's Compass tool. In addition, the study can be used as a benchmarking tool to track overall industry improvements and for individual member companies to conduct their own LCA studies. It can also be used as a baseline for future industry studies.
CPA says the findings of the LCA are intended to help producers and users understand the environmental impact of corrugated products including Global Warming Potential (GWP); Acidification Potential (AP) (acid rain); Eutrophication Potential (EP) (one impact on the ability of water to support aquatic life); and Smog Creation Potential, along with Primary Energy Demand (PE).