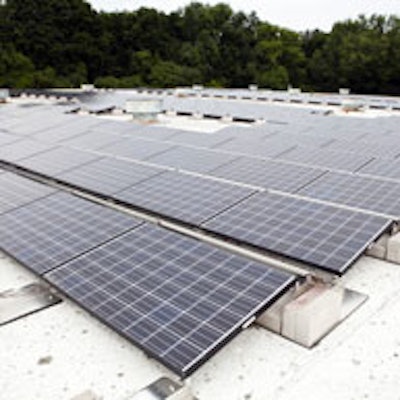 Advancing General Mills' commitment to renewable energy, the company has announced a major solar energy initiative at its Methuen, MA, facility. With the installation of solar panels now complete, solar energy is expected to supply nearly 80% of the warehouse's summertime power needs, and 40% of its needs the rest of the year.
The site, which produces yogurt, is the company's first U.S. facility to produce its own electricity via solar energy. In late July, at an on-site celebration, employees and government officials saw the solar panels firsthand by way of a sky lift, which raised them to the roof for observation. The panels were designed and installed by clean energy company Nexamp.
"The enthusiasm of the workforce and the partnership with state and local government led the way for us to install the solar panels," says Jon Russett, energy manager in General Mills' supply chain operations. "General Mills is committed to continuously improving its environmental performance."
Says Patrick Cloney, executive director of the Massachusetts Clean Energy Center (MassCEC), which awarded General Mills a rebate for the solar panel installation, "MassCEC is thrilled to see forward-thinking companies such as General Mills reducing their carbon footprint and helping lessen our dependence on fossil fuels,"
What solar power will do at General Mills' Methuen plant:
• Provide a year-round average of 55% of the annual electricity consumed by the warehouse building.
• Generate enough electricity (110.7 kilowatts) to power approximately 12 average Massachusetts homes every year
• Will offset more than 112,000 lb of carbon dioxide annually, the equivalent of taking 10 cars off the road.
The company continues to invest in renewable energy as part its commitment to protect and conserve the natural resource base its business depends upon. General Mills' San Adrian, Spain, facility now receives all of its electricity and one third of its overall energy from renewable energy sources such as wind power. The company is also constructing a biomass burner at its oat-milling facility in Fridley, MN, that will burn leftover oat hulls from the milling process to produce about 90% of the steam needed to heat the plant and make oat flour.
"As we continue to work on sustainability across our supply chain, we remain confident that the groundwork we've laid will continue to show even more progress in the future," says Russet.