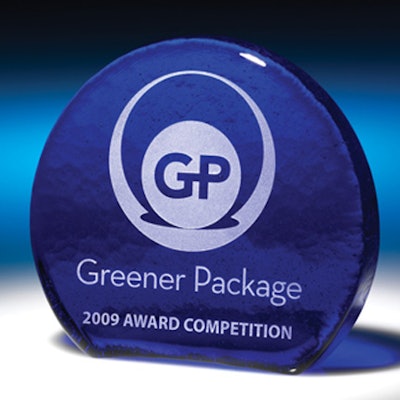 GreenerPackage.com is now accepting submissions for its 2010 Greener Package Awards, the first global, independent, neutral awards contest focused on packaging sustainability. In its debut last year, the competition drew 51 qualified entrants, resulting in 10 awards to new packages and processes that demonstrated the best practices and greatest innovation in sustainable packaging.
For greater clarity, the Greener Packaging Sustainability Awards team has refined the number and types of categories for the 2010 competition. This year, there are five categories, broken down by package type.
These include:
• Food & pharmaceutical packaging (2 winners)
• Personal care/cosmetics packaging (2 winners)
• Non-food primary packaging (2 winners)
• Secondary/large-format packaging (2 winners)
• Beyond the Package Award (1 winner)
The final category is a catch-all to accommodate companies with packaging initiatives or processes, such as effective take-back programs that connect with recycled markets; with unusually green manufacturing operations; or with other initiatives that contribute to sustainability that go beyond an individual package.
Judges will also bestow the Innovator of the Year award on one winner from the above categories that demonstrates innovation above all others.
To be eligible for the competition, an entry must center on a specific package that was commercialized with an end user/brand owner between Jan. 1, 2009 and Dec. 31, 2009. Packages commercialized in 2010 may be entered into the awards program, as long as they are not re-entered in 2011. The package can be submitted to the competition by any company within the packaging value chain, including the retailer, brand owner, design firm, or packaging supplier. For more information on eligibility, see the Greener Package Awards FAQs.
Judges for the competition consist of members of the Greener Package Expert Network. These individuals represent sustainability leaders from retailers, consumer packaged goods companies, designers, consultants, suppliers, and recyclers.
Winners of the 2010 Greener Package Awards will receive an award plaque and will have their package or process comprehensively profiled in the September 2010 issue of Packaging World magazine.