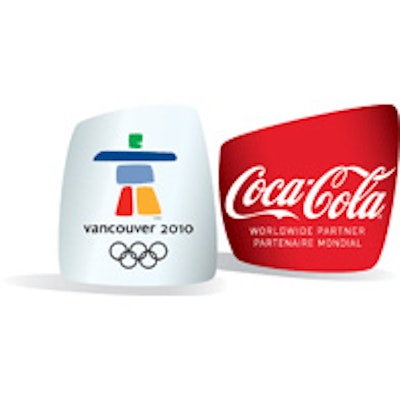 Coca-Cola, the world's longest continuous corporate partner of the Olympic Games, has committed to being carbon-neutral and to generating "zero waste" in its entire Vancouver 2010 Olympic Winter Games operations.
"The Vancouver 2010 Olympic Winter Games promise to be a great moment shared by all Canadians," says Nicola Kettlitz, general manager, Coca-Cola Vancouver 2010 Olympic Project Team. "These Olympic Games will be made even more special because of Coca-Cola's efforts to be the leading sustainable sponsor. We have been using our sponsorship to inspire Canadians to lead more active, environmentally sustainable lifestyles."
Vancouver 2010 celebrates leading examples of innovation in sustainability through the Vancouver 2010 Sustainability Star program. The program recognizes initiatives by games partners, sponsors, and the Vancouver Organizing Committee (VANOC) that demonstrate positive and measurable social, economic, and environmental benefits.
Coca-Cola is a Sustainability Star winner for its carbon footprint and offset program. The company is using the Vancouver 2010 Olympic Winter Games to showcase its sustainability efforts and to inspire individuals to be more environmentally friendly.
Four Olympic Games' firsts will help Coca-Cola's fulfill its commitments:
• Coca-Cola is carbon-neutral in its sponsorship of the Olympic Winter Games and Olympic Torch Relay.
• 100% of all beverage cups and lids are compostable.
• The company's new PlantBottle is making its debut at the games, where most Coca-Cola beverages sold are in the completely recyclable package.
• Through the use of sustainable packaging and ensuring 100% collection of all PET containers used throughout the games venues, a minimum of 95% of all waste will be diverted from landfills.
In addition to these measures, the company is continuing its environmental efforts through collecting beverage containers in more than 800 recycling barrels, each made from reused Coca-Cola concentrate barrels.
According to Coca-Cola, the materials that it has produced for use in concessions within the games venues are produced from post-consumer recycled plastic and will be redeployed into the general market after the games.
All Coca-Cola associates supporting the Olympic Winter Games are wearing uniforms made of recycled PET bottles. According to fiber2fasion.com, each uniform contains approximately 120 PET bottles.
Coca-Cola is also employing technologies to reduce its carbon emissions, and will purchase Gold Standard carbon offsets to reduce Olympic Winter Games carbon emissions by 100%. For example, 1,400 proprietary EKOfresh refrigeration units nearly eliminate direct greenhouse gas emissions and reduce energy use by 35% over regular refrigeration units through "smart" temperature control. This reduction of 5,600 metric tons is comparable to taking approximately 1,200 cars off the road for an entire year. The Vancouver 2010 Olympic Winter Games mark the first time this new refrigerant technology has been used in North America.
On-Site Experience
Coca-Cola is also sponsoring the Coca-Cola Pavilion at LiveCity Yaletown. The pavilion provides a multisensory, interactive experience that highlights Coca-Cola's past and present involvement with the Olympic Games, as well as the company's current and future commitments to environmental sustainability. The pavilion brings Coca-Cola's sustainability efforts to life as guests learn about efforts to protect the polar bear, recycle in unique ways, and meet the "bottle of the future," the PlantBottle.
Coca-Cola is also hosting three official Pin Trading Centres before and during the games, where visitors can trade more than 130 different varieties of Vancouver 2010 lapel pins, all made from recycled content. Partial proceeds from the sale of Coca-Cola Games pins will be donated to WWF-Canada.

Through the use of an interactive screen at the Athletes' Village, Coca-Cola is also securing pledges to personal sustainability and environmental action from former and current Olympic Games athletes, who will become environmental ambassadors. Coca-Cola will promote these pledges to engage and inspire Olympic Games fans around the world to embrace more sustainable lifestyles.