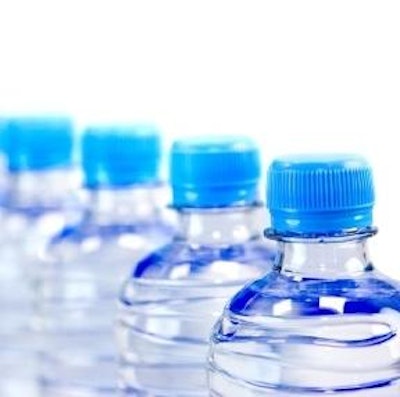 In these shifting times, bottled water is a metaphor, embodying lessons and challenges associated with the Green Movement.
Simplified, the attack against bottle water is that: the majority of its plastic bottles end up in landfills; the bottles consume oil in their production; and the availability of tap water makes the bottled version an expensive, wasteful, unnecessary alternative.
So, what insights might CPGC's derive from this battle?
No scorecard nor other single metric is haven.
It's not unreasonable to speculate that bottled water would score respectably using the Wal-Mart scorecard metrics. The bottles are designed to be as lightweight as feasible, and are recyclable. The product has good transportation characteristics in terms of density and package/product ratio. Comparatively speaking, bottled water is no-frills. If it is vulnerable—scorecard grade notwithstanding—what consumer packaged product isn't?
When packaging is singled out as an environmental menace.
Water good: bottle bad. Green, like any movement, is analogous to a pendulum: the arc will have its extremes. As such, some green advocates have never met a package that they do like. Packaging is ubiquitous, and therefore an easy, convenient target. Too often, short shrift is given to the fact that packaging makes possible the mass production/mass marketing/mass consumption that underpin our standard-of-living. CPGC's should embrace the philosophy that packaging forever has to justify its existence and that sustainability is an eternal objective never achieved.
Comparisons can be misleading.
Some opponents of bottled water pit it against tap water. Wrong comparison. Bottled water is an alternative to other beverages. But even head-to-head vs. tap, bottled might be preferred on the bases of taste, content (for example, no fluoride), etc. The fact that bottled water is in step with adjunct issues, such as the fight against obesity, all-natural ingredients, and sugar-free, carries little sway with some critics. CPGC's should anticipate what comparisons might be made of their products, as well as understand that attacks will have their inconsistencies and disconnects.
Perception affects credibility.
Some brands sport labels depicting ice-capped mountains, pristine brooks, or the like, even though the actual source is municipal water. Critics decry it as deceptive, and although it's not germane to environmental issues, they use it to portray the practitioners as untrustworthy. There's an army of watchdogs, eager to accuse greenwashing or other uncomplimentary charges. CPGC's shouldn't unwittingly supply ammunition.
Technology can be misstated.
Corn-based bottles have been touted as an alternative to PET. Various hurdles must be cleared, however, before that alternative is viable. They include: a small supplier base; competition with ethanol; development of sources resistant to drought and pests; premium prices; and, yet unknowns regarding long-term shelf-life performance. CPGS's should know how arguments about technology factor into the evaluation of their products' sustainability.
Size matters.
According to the International Bottled Water Association, U.S. bottled water sales topped $10 billion in 2006. And, given the costs of water and the modest investment needed to enter the industry, giants (Pepsi, Coca Cola, Nestle) down to small bottlers are making handsome profits. Many green advocates equate industry size and carbon footprint, without regard to other factors, using attacks that substitute profiteering for profits. CPGCs, of course, must pursue growth and profits, but in these times with the understanding that their success can subject them to certain criticisms.
Convenience is under siege.
Everyone drinks and needs water. In tap form, it's inexpensive, and even free at some locations, such as fountains; yet, bottled, it's the second (to soft drinks) most consumed beverage in the U.S. All the explanations share a common element: convenience. While exercising environmental responsibility, a CPGC still must provide convenience adequate for the consumer to choose its packaged offering over one that's less packaged or processed.
Global warming will continue to motivate individuals, groups, institutions, and governments to take up the fight and packaging will consistently be in their crosshairs. CPGC's should regard bottled water as a case study, helpful in mapping strategies on competing in the green era.
Sterling Anthony, packaging consultant
100 Renaissance Center-43176, Detroit, Michigan 48243
Phone 313-531-1875, fax 313-531-1972
Sterlinganthony1@sbcglobal.net
www.pkgconsultant.com