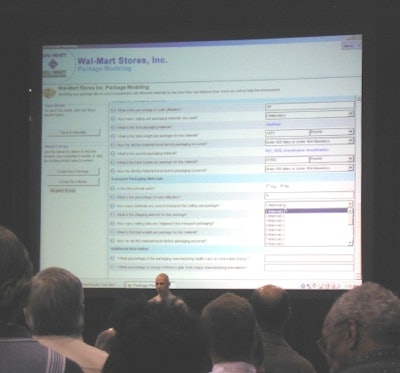 That the Wal-Mart scorecard is going global was revealed by Matt Kistler, vice president, package and product innovations, Sam's Club/Wal-Mart Stores Inc., Bentonville, AR.
Kistler spoke to a packed and attentive luncheon crowd of about 400 wanting to hear more about the Wal-Mart scorecard unveiled last fall on May 15 at the Packaging Summit Expo & Conference (www.pkgsummit.com) in Rosemont, IL, a Chicago suburb. The presentation was followed by a 30-minute question-and-answer session and then live demonstrations of the scorecard online in the show's exhibition hall. Amy Zettlemoyer, director of packaging for Sam's Club, joined in via phone to the Q&A portion of the session to assist Kistler.
Kistler first explained that packaging is one of 14 sustainable networks that the company has formed and all were working on scorecards; packaging is attached to the "zero waste" division that also includes operations. He said that the packaging section now has 300 members, up sharply from about 50 members last fall. He also reminded attendees that the goal of the scorecard was as a key part of an initiative intended to reduce packaging by 5% in the period 2008 to 2013.

All's unexpected benefits
Kistler also disclosed two unexpected benefits from the source-reduction of All small & mighty detergent that changed from a ready-to-use to a 3x concentrated form, which he says serves as a poster child of what is possible. There were two surprise benefits in going small with All, he said. "One was that out-of-stocks were reduced by half, and the other was that this represented a $91.4 million reduction in [Wal-Mart] labor dollars." The savings presumably come from having more bottles in the same shelf space as before, thus reducing the occurence and labor associated with restocking.

Some other points that Kistler made:

Wal-Mart's packaging sustainability initiative has three components: the scorecard, the model software, and a virtual trade show of all suppliers.
It was revealed that

Thumbprint Inc.

(www.thumbprint.com) developed the scorecard modeling software.
"The scorecard allows 'what if' scenarios," Kistler reminded the audience.
Standards used in the scorecard are typically ISO standards such as ISO 14000; for example, the post-consumer recycled content portion of the scorecard—one of nine weighted factors that result in a packaged product's score—is based on ISO standards rather than definitions from the United States EPA. However, the recovery values that factor in this portion of the scorecard—scored as 0, 1, 2, or 3—are based on 2005 United States recycling rate figures.
Multicomponent packaging are treated individually if they are removable from a package. For example, the label on a bottle is treated separately within the scorecard if it is removable, while a lamination on another package is likely treated as one material than as two or more.
Because the information is input by the suppliers, the scorecard is based on the honor system and is self-policing, according to Kistler.
Kistler reminded the audience that the scorecard is dynamic and will change when a company's product score or that of its competitor's changes. Suppliers (packagers) will not see other companies' scores, but will see how their packaged product score is relative to others' via the percentile ranking. But he did allow that the possibility to figure out a competitor's score exists.
Third-party certification of figures is required.
Wal-Mart Intl. has adopted the scorecard intact in all countries where Wal-Mart operates, which includes Brazil, United Kingdom, Mexico, and Canada.
About half of the 2,000+ suppliers that have registered on the scorecard site have completed the scorecard for at least one item.
Kistler acknowledged that the scorecard is subject to change. "We are directionally right, and will keep making it better."
Kistler stated he was most excited about the virtual tradeshow aspect that was developed in collaboration with

ECRM

(www.ecrm-online.com).

What weight does the scorecard carry?
Kistler answered that question by paraphrasing comments from Wal-Mart ceo Lee Scott: On Wal-Mart buyer decisions, all things being equal, the better score wins. Even close calls can tip the scales toward the better score.

Our luncheon table included a packaging materials manager from a major consumer packaged goods company, who had this reaction after the presentation: "[the scorecard] is a ticking time bomb." Coincidentally, he and his company were to meet with Wal-Mart about the scorecard the next week.
After the presentation, demonstrations of how to use the scorecard were held in the exhibition hall. Handling the first demo session (which I attended) was Ted Schneider III, distributed software architect, Thumbprint Inc. He demonstrated (see image below) how to input into the scorecard model a canned soda 6-pack unitized with a 6-ring PET plastic carrier. One of the bits of information he input was the weight of each can at 0.1875 lb each. Along with other factors including the ring carrier, the case data, and pallet details and cube efficiency, the scorecard value was 5.55. He then "lightweighted" the can to 0.18 lb each. When this new format was input and calculated, it showed a scorecard value of 4.44. It seems that a smaller scorecard number is better.

Have a scorecard question? You can email Wal-Mart directly at svn@wal-mart.com. Kistler emphasized that the best way to get an answer was to address questions to one topic that is "concisely" noted on the subject line.
For more information, see PW's article, Wal-Mart scorecard early results in, published March 13th, 2007, and visit the Wal-Mart scorecard portal at www.packagemodeling.com


Companies in this article