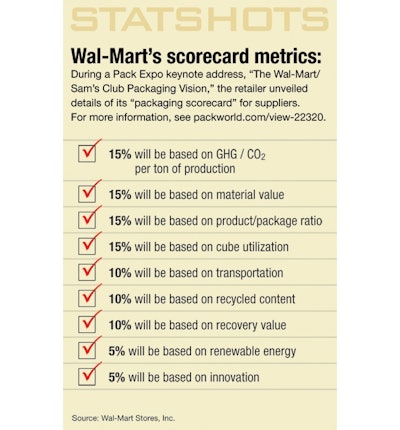 At Pack Expo International in Chicago last fall, retail giant Wal-Mart revealed specifics of its packaging scorecard (see accompanying image as well as Wal-Mart reveals packaging scorecard, published November 2006) that aims to help it reduce packaging materials and costs across its global supply chain by 5% by 2013.

The Fibre Box Assn. (FBA), a nonprofit organization that represents the corrugated industry, says it will continue working with Wal-Mart to help corrugated manufacturers realize the best possible ratings contribution to their customer's product-supplier scores. The FBA also plans to add a sustainability section to its Web site, where visitors can see the latest information on Wal-Mart's efforts, as well as other corrugated sustainability issues.
Scoring corrugated advantages

"Wal-Mart's packaging scorecard will place the responsibility on suppliers to measurably minimize environmental impact while meeting the low prices that Wal-Mart demands," says FBA president Dwight Schmidt. "The great news about this program is that by participating in its development we have been able to position the corrugated industry as the leader in packaging efficiency, and communicated our environmental advantages via verifiable data."
The FBA committee has touted the merits of corrugated to Wal-Mart. Schmidt says, "We were able to convince Wal-Mart to use industry averages for recycled content and recovery as default values, which is much simpler than providing package-specific data, and just as useful. Since the packaging scorecard program is still under development, with beta testing to begin [this] year, we have plenty of opportunity for ongoing dialogue and information exchange that can help assure fairness and accuracy of values assigned to corrugated packaging."
For more information, visit the following Wal-Mart Web sites: Scorecard.Library or Marketgate.com/packaging.



Companies in this article