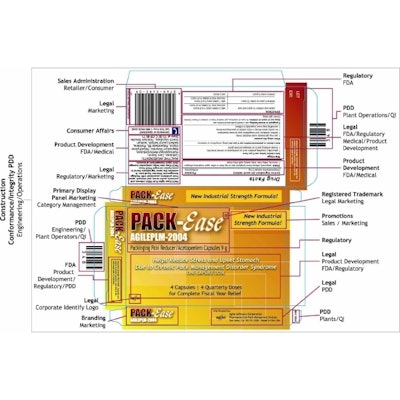 Background: Product Lifecycle Management or PLM is the process of managing the entire lifecycle of a product from the concept and design phase, through production planning, visualization and marketing, to the point where the packaging and product are disposed of by the user.
We spoke recently with Sarvesh Jagannivas, vp industry and field marketing of Agile Software (www.agile.com), which has targeted food and beverage packaged goods companies, to find out how packagers can benefit from using PLM.

PW: First of all, is PLM synonymous with workflow software, or is this a more holistic approach?

Sarvesh: Workflow is a built-in element within PLM, but PLM is much broader and has higher-level functionality. In your article on workflow at JohnsonDiversey (see Workflow software works for JohnsonDiversey, published April 2005) the Optiva software that's described works with Agile's Stage Gate process.


PW: What roles does packaging play and how does it interface with your software?

Sarvesh: You can see from the graphic illustrations some of the packaging-type tasks the software enables. It shows how the process is managed using our software (first image) and conventionally (second image).
For example, let's consider a pharmaceutical company that has significant amounts of information that goes onto a package. That could be things like instructions for number of pills to take in a day, or directions for use, or how to store it. This also handles company or product logos or printed product claims. All of these elements, called digital assets, literally pieces of content, are managed as objects within PLM.
Some of the largest pharmaceutical companies may have thousands of stock-keeping units. PLM is all about what the packaging information is, and how to manage packaging assets across different countries. All of those digital assets are managed within the software's database over the Internet, and can be accessed with permission by outside companies such as materials' vendors or agencies. This permits remote, electronic collaboration on changes, even those across hundreds of items. A company could implement that change across all those products at one time using Agile.


PW: Who are some of your customers?

Sarvesh: Our customers include Heinz, Bayer Consumer Healthcare, Playtex, and HerbaLife. All of them are managing packaging information in addition to product information using our PLM software.
In many consumer packaged goods companies, half of a new product launch involves packaging. Our software enables design documentation using Adobe and CAD.

PW: Your software can handle various document and file types in a protected manner over the Internet?

Sarvesh: Yes, text and images are all managed using what we call meta-data level specifications. Agile 9.2 our latest release, for managing the product record, also manages workflow states, people, and resources. It manages official password authorizations; within many industries, double password authentication is required as a government compliance requirement. From design to launch of a product, all pieces of information that a company would need are managed centrally.

PW: What kind of benefits and payback have CPG users experienced with PLM?

Sarvesh: One of the benefits is making sure when your product goes on shelf it is compliant with local regulations when a product is sold. Another benefit is enabling a fast response if quality problems occur with the product or the packaging, especially as the documentation is electronic. And the third major benefit is that it enables quicker speed-to-market.

PW: How does speed-to-market improve? And does that provide direct payback?

Sarvesh: When you're able to collaborate on such digital assets and product information centrally, companies are able to move faster on product and packaging requirements and changes. We have seen some CPG customers justify a complete Agile project, of software and implementation of software, on parcel delivery cost savings alone—not to have to overnight documents among the various stakeholders of the company. For large companies, those costs can run into the millions of dollars. Streamlined and collaborative processes save time and cuts costs dramatically. There are recorded instances of companies saving as much as one hundred million dollars annually just by using PLM software.

PW: Do you have any examples of how much faster speed-to-market can be?

Sarvesh: One company's brand new product launch cycle used to take three years from concept to launch. After the installation of Agile, they were able to bring it down to less than eighteen months. And in some instances, with some specific products, they're able to squeeze it down to under a year. This means a company can compete much faster and get its products on shelf before its competition does.

PW: Realizing that your software costs upwards of $100,000, can a mid-size company justify this type of investment?

Sarvesh: Some smaller companies may have thousands of specifications that can be managed in PLM. And our software is sold in modules. If a company wants to manage only its packaging elements, it could do just that. For example, Playtex is a billion dollar corporation, but it initially deployed Agile to manage one product's packaging.