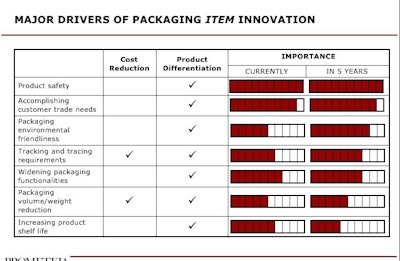 This 20th edition of Italy's premier packaging show welcomed more than 50ꯠ visitors, a 10% increase over the last show three years ago. Foreign attendance showed a 20% increase, as 1귯 exhibitors—415 from outside of Italy—displayed their latest innovations.
"Ipack-Ima was expected to measure the health of the market," said Guido Corbella, the CEO of Ipack-Ima S.p.A. "The results show that recovery is underway and make us hope for a better 2006 than 2005."
One day before the show opened, show sponsors Ucima (the Italian Packaging Machinery Manufacturers Association) and ICE (the Italian Trade Commission) held a first-of-its-kind event: the Global Packaging Managers & Equipment Suppliers Forum. This event was aimed at bringing together key stakeholders from both the machinery-buying and machinery-building side of the packaging arena to discuss where packaging innovation for multinationals begins, who promotes it, who manages it, and how relations between suppliers of technology and users of that technology can be improved.
One highlight of the Forum was the presentation by Luigi Bidoia of Prometeia S.p.A., the Italian consultancy commissioned by Ucima and ICE to produce a study called "Packaging Innovation among Multinationals: The Role of Global Packaging Managers and Equipment Manufacturers." Bidoia presented an overview of the just-published study, which was based on two things:
• a series of in-depth interviews with several global packaging managers of U.S. and European multinationals and with a number of executives from Italian manufacturers of packaging equipment
• a wide-ranging survey of more than 70 packaging professionals from the major U.S. and European multinationals operating in the food, beverage, healthcare, homecare, and pharmaceutical industries
"None of the participants in the study said that packaging development and innovation would be de-emphasized in the next five years," Bidoia told the Forum audience. "On the contrary, we were told it would be increasingly important in the next five years."
Participants in the Prometeia study made it clear, said Bidoia, that the twin goals of packaging innovation are cost reduction and product differentiation. Cost reduction, he added, is pursued primarily through packaging line innovations, while product differentiation is pursued largely through item innovations, i.e., changes in the package itself, which can sometimes impact the packaging line, too.
Having drawn this distinction between "packaging item innovation" and "packaging line innovation," Bidoia identified the major drivers behind each. In looking at packaging item innovation (see Figure A), Bidoia observed that drivers like product safety, fulfilling retailer requirements, widening packaging functionalities, and reducing packaging volume/weight stayed fairly constant. Drivers that will become increasingly important, he pointed out, are packaging's environmental friendliness and the track-and-trace capabilities that packaging can incorporate. Worth noting, too, is that one driver that will grow less important in the next five years is increasing product shelf life.
When it comes to major drivers of packaging line innovation (see Figure B), things like increasing productivity and reducing set-up time will remain constant in their importance. Two drivers that will grow more important are increasing flexibility and reducing changeover time required for different sizes and items.
Bidoia also delivered some insight into who actually contributes to implementing packaging innovation (see Figure C). Predictably enough, the marketing department is responsible for nearly 30% of the overall contribution behind implementation of a packaging item innovation, while the engineering department and the equipment manufacturers (EQMs) contribute considerably less. With packaging line innovations, it's marketing that occupies a back-seat role while the engineering department and the equipment manufacturers play more prominent roles.
Also addressed by Bidoia in his overview of the Prometeia study was the information captured in Figure D. Essentially it shows how important packaging machinery buyers think certain characteristics are in the companies from whom they buy packaging machinery. In the categories identified as Technical Related Skills and Customer Service, machine builders are doing a decent job of meeting the expectations of the packaged goods companies who buy their machines. But when it comes to In-depth Awareness of Client Needs, packaging machinery builders have a ways to go.
Bidoia concluded his remarks by pointing out that there is clearly an opportunity for global packaging managers and packaging machinery builders to strengthen their relationship. This can be done not only through one-on-one relationship building but also through institutional events, from forums and workshops to dedicated Web sites to trade shows. It would also help a lot, said Bidoia, if packaging machinery builders could get a whole lot better at developing a truly in-depth awareness of customer needs and being more proactive in meeting those needs.
By the way, in case you're wondering why it took me 'til February 23 to file this Web-based report on Ipack-Ima when the show ended February 18, it's because I extended my visit to Italy for a little sightseeing. I also had the good sense to bring along wife Sue and daughter Lena for a tour not only of Milan but of Venice and Florence, as well. That's us on the roof of Milan's giddily Gothic, and profoundly beautiful, Duomo. What an amazing country. Ciao for now.
For a related Ipack-Ima story, please click here.
Companies in this article