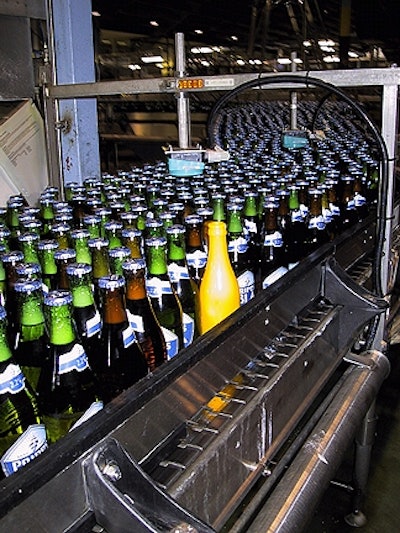 The Dynamic Temperature System (DTS) offers state of the art means to instantly determine temperature over time to an accuracy of 0.5 degrees C utilizing a wireless real-time display via Palm handheld computer.
Our unique patented device can be customized in both canning and bottling applications to allow for successful temperature monitoring in environments up to 150 degrees C for food pasteurization and sterilization systems with up to 35 hrs of continuous test time depending on the test environment. Data is transmitted to a remote Palm computer to be viewed instantly by the user. Menu functions allow event marking zone marking user defined thresholds user defined data entry compare file options and vibra-alert options.
DTS can operate in conjunction with Smart Bottle Impact Smart Can Impact and Universal PD technologies which have the primary function of monitoring handling and line change over abnormalities. Sven Romander Swedish Brewers Association proclaims "We have been working with 'Smart Bottle' technology from Sensor Wireless Inc. for some time and have found this diagnostic tool very useful in optimizing everyday performance of our glass handling and packaging systems particularly as it relates to the measurement validation and control of container conveyance individual package lines speeds and ongoing production efficiencies."
The Swedish Brewers Association and the Smart Bottle were recently featured in Packaging World magazine. To view that article please click here.
With the DTS add-on these systems become capable of monitoring ambient environmental temperatures throughout the production chain with both impact and temperature data being displayed in real time wireless view without the hassle of lengthy download and test times. Software provides users two options: 1) to monitor temperature or impact as a single unique application 2) to monitor both temperature and impact characteristics concurrently in real time view. Click here for a demonstration of the Smart Bottle technology.
Sensor Wireless is also working on the newest GPS- Dynamic Tracking System which the company expects will be commercially available in late 2003 early 2004. This technology will revolutionize transportation monitoring in effect by enabling companies to monitor the real time dynamic influences goods and fragile articles are experiencing in transit. Using a web-based system users will be capable of identifying the exact location of shipped goods probable damage to these goods by instant warnings of above threshold impacts/vibrations and temperature fluctuations while in transit. This system will identify the presence of currently available Sensor Wireless products in the shipment such as Smart Bottle and begin to upload data in real time to a GPS/cellemetry network for available viewing on remote web-based computers. Users will not only be capable of instantly viewing daily production line efficiencies but also transportation efficiencies once the product leaves the plant.
Companies in this article