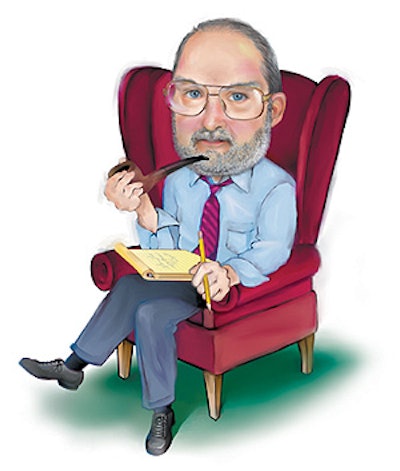 Often the crack they fall through is the lack of cooperation by a willing end user.
And that's precisely the reason that the Special Report on paper and paperboard on page 60 doesn't include an application for Keiding, Inc., a molded-pulp container maker in Milwaukee.
I came into contact with Keiding through Joe Grygny at the International Molded Pulp Environmental Packaging Assn., located in a northern suburb of Milwaukee. Joe is the linchpin of IMPEPA, one of the smaller manufacturing associations in packaging. IMPEPA has members across the globe, but the total number is rather small, compared to most organizations. Joe is dedicated to IMPEPA, and he keeps up to date on what its members are doing.
Anyway, my call to Joe led me to meet with him and eventually with Jim Gehl, president of Keiding, at its plant. Jim and Joe are like two peas in a pod, each more excited and enthusiastic about the creative design of molded pulp packages than in advancing an agenda.
So it was difficult to get them to focus on one specific package that we could use in a story. That's not unusual for these kinds of engineers. It's my guess that Gehl becomes more excited about designing a new package than he does when his company collects a big check.
Until about 10 years ago, Packaging World wouldn't have shown much interest in Keiding. Since 1939, the company has been involved in recycling and in manufacturing containers, but those containers wouldn't have been considered as "packaging." For about five decades, Keiding's products were limited to the floral industry. If you've ever sent a floral piece for a funeral or some other occasion, it's possible that floral arrangement was put into a molded pulp container made by Keiding.
That was the company's market and it stuck to it. Along the way, in-house engineers made most of the equipment that's used in making the products.
When Gehl became president, he recognized the need to broaden the firm's markets. Floral containers, after all, are not exactly a growth business.
Without abandoning this core business, Gehl set out to diversify by getting into the design of custom molded-pulp packaging. From a modest business 10 years ago, packaging now accounts for about 70% of Keiding's overall volume today. Oh, they're still cranking out floral containers, using mold tooling built in-house. It's kind of like the spare parts business of Keiding; it's the volume that keeps the ovens humming.
But the fun stuff—the creative juices—today go to the packaging parts. This is where Keiding and a lot of its competitors solve problems for a variety of manufacturers. One customer is Harley-Davidson. In a whirlwind tour of Keiding's sample room, Gehl and Grygny showed off a variety of molded pulp pieces. One was an end cap that's used for a Harley chromed muffler. Because the muffler has different circumferences at each end, Keiding developed one end cap of molded pulp that fits "into" one end of the muffler and flips around to fit "over" the other end of the muffler before it's inserted into a box.
One of the most interesting parts of the Keiding operation was examining the various "feedstocks" it uses. For example, Gehl showed me a bin of scrap paper that comes from companies that manufacture those small folded round cups into which condiments are pumped at fast-food restaurants. Because the paper scrap is polymer-coated, its markets were limited. For Keiding's floral containers, the polymer with the paper provided the container the waterproofing that fresh floral arrangements need.
It's too bad that none of Keiding's customers was willing to cooperate for our Special Report. That doesn't change the simple fact that Keiding president Jim Gehl continues to percolate with ideas, proving that molded pulp paper packaging is indeed alive and well.
See an archive of Arnie Orloski's Pipeline columns at www.packworld.com/pipeline. Arnie can be reached at orloski@packworld.com
Companies in this article