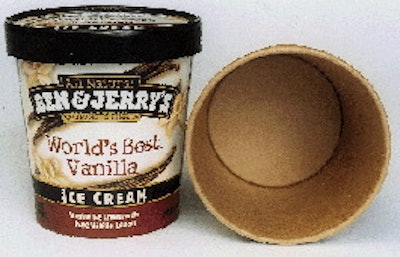 B&J is believed to be the first U.S. ice cream maker to switch to unbleached board, which it has used for novelty bar cartons for some time.
The 16-pt "Eco-Pint," as B&J calls it, is from Riverwood Intl. (Atlanta, GA). It is gradually replacing 18-pt solid bleached sulphate for B&J pints. The change was made for environmental reasons, which are described in back-panel graphics.
"Bleaching paper with chlorine releases dioxins into the environment, and the EPA has found that dioxins are among the most toxic substances ever created," reads the copy. "This paper is a step towards producing a package without added chlorine." Focus group testing showed no consumer resistance to the brown interior. While the SUS's brown interior differs from the white of the SBS, the clay-coated and printed exterior looks the same.
For the Eco-Pint, Riverwood marries two kraft layers for strength, then applies two layers of clay coating on the board's exterior in-line. Next, an outside vendor applies a polyethylene coating to both board sides for added moisture barrier.
Riverwood ships coated rollstock to Sweetheart Cup (Owings Mills, MD). Sweetheart offset-prints the graphics in six colors, plus varnish. It forms the cups on equipment modified especially for the Eco-Pints. Lids and bases are also made from SUS. Nested containers and lids are shipped to three B&J facilities for filling.
Forming SUS was challenging, admits Michael Brink, B&J's manager of packaging development, because unbleached board is made from long softwood fibers that are hard to bend and shape.
"We're hoping the Eco-Pint will become the industry standard for ice cream containers," notes Andrea Asch, B&J's manager of natural resource use. It will be used "for the top-selling one-third of our pint varieties by the end of this year." The balance of products in pints will be converted by the end of next year. SUS is also being considered for other containers, including 1/2- and 1-gal sizes.
She admits the unbleached material costs more, largely because it's not available in the volumes that bleached board is. Neither Sweetheart nor B&J would provide specific financial figures. Asch says that the added cost will not be passed along. Consumers will continue to pay about $3.19 for a pint.
Companies in this article
Videos from Graphic Packaging Intl.