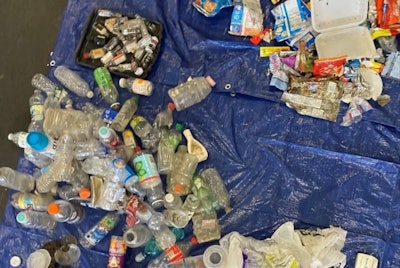 New York Attorney General Letitia James filed a lawsuit against PepsiCo Inc. on Nov. 15 for harming the public and the environment with its single-use plastic packaging. According to a press release from the Office of the Attorney General (OAG), it found that "single-use plastic produced by PepsiCo contributes significantly to high levels of plastic pollution along the Buffalo River, pollution that is contaminating drinking water and harming wildlife."
The lawsuit alleges that PepsiCo substantially causes public harm in Buffalo, has failed to warn consumers about the potential health and environmental risks of its single-use plastic packaging, and misleads consumers and the public about its efforts to combat plastic pollution. Through this lawsuit, AG James seeks to require PepsiCo to end practices that threaten the environment and the public and to obtain disgorgement, civil penalties, and restitution for the damage inflicted upon New York's communities and environment.

---
---
"No company is too big to ensure that their products do not damage our environment and public health. All New Yorkers have a basic right to clean water, yet PepsiCo's irresponsible packaging and marketing endanger Buffalo's water supply, environment, and public health," said AG James. "No one should have to worry about plastics in their drinking water, plastic garbage littering their scenic riverfront, or plastic pollution harming wildlife. I will never hesitate to take on major corporations that put the health and safety of everyday New Yorkers and our planet at risk."
In response to the allegations, PepsiCo said in a statement, reported by Fortune, that it was serious about "plastic reduction and effective recycling." However, noted the article, the company didn't directly comment on the lawsuit's claim that it was legally responsible for keeping garbage out of the Buffalo River.
Survey finds plastic is a major pollutant in Buffalo River
PepsiCo, which is headquartered in New York state, manufactures, produces, and packages at least 85 different beverage brands and 25 snack food brands that predominantly come in single-use plastic containers.

According to the press release from the OAG, plastic packaging has become a persistent and dangerous form of pollution along the shores of the Buffalo River and in its watershed. In 2022, the OAG conducted a survey of all types of waste collected at 13 sites along the Buffalo River and in its watershed. In total, 2,621 pieces of waste containing identifiable brands were collected throughout 2022; nearly three quarters (73%) were plastic. These items included single-use food wrappers, plastic bottles, and bottle caps used for food and beverages.
Says the OAG, PepsiCo's plastic packaging far exceeded any other source of identifiable plastic waste, and it was three times more abundant than the next contributor, McDonald's. "Of 1,916 pieces of plastic waste containing an identifiable brand, 328 (17.1%) were produced by PepsiCo," it reports.
Continues the release, once in the environment, single-use plastic packaging quickly starts to break down and release dangerous microplastics. A nationwide study by NGO Break Free From Plastic aggregated 2,125,415 items of plastic waste from 2,373 separate collections across the U.S. from 2018 to 2022. In each year, the study documented PepsiCo as either the number one or number two producer of branded plastic trash collected across the country.

Large quantities of microplastics have been found in the Buffalo River, and an analysis of those fragments has confirmed the presence of microplastics from snack food wrappers and polymers of the type used in PepsiCo's plastic beverage bottles and bottle caps.
hr>
---
Meanwhile, PepsiCo admits on its website that "inadequate infrastructure and low recycling rates make collection and recycling of packaging difficult and increase the likelihood of packaging leaking into the environment."
To combat this, PepsiCo reports that from 2021-2022, it committed $50 million in investments to key partners to improve the recycling infrastructure. Says the company, "In 2022, we committed $35 million to help create the Closed Loop Local Recycling Fund to advance new small-scale, modular recycling systems in U.S. communities. We are also a founding member of the Closed Loop Infrastructure Fund and have invested in the Closed Loop Beverage Fund through American Beverage Association's Every Bottle Back Initiative.
"Alongside industry peers, in 2023, we invested in Circular Services, a developer launched by CLP and Brookfield Renewable, whose goal is to build recycling facilities that will enable U.S. cities to abandon the costly practice of dumping waste in landfills by ensuring that valuable commodities are recycled and reused in domestic supply chains. Since 2018, PepsiCo and the PepsiCo Foundation have committed to invest more than $100 million in global recycling partnership initiatives to help elevate recycling rates and waste collection."
OAG's legal claims against PepsiCo

The lawsuit against PepsiCo alleges that the company has significantly contributed to, and continues to contribute to, the existence of a public nuisance that injures the community living in the city of Buffalo and the environment. It also alleges that PepsiCo has misled the public about the effectiveness of its plastic recycling and its efforts to combat plastic pollution.
"For example," the lawsuit reads, "PepsiCo's statements have misled consumers and the public by creating the impression that the company was making meaningful progress toward reducing the use of non-recycled (virgin) plastic in its packaging, but no such progress is being made. On the contrary, for the last four years, PepsiCo's use of virgin plastic has increased year by year. In 2022 alone, PepsiCo acknowledged that its use of virgin plastic in its plastic packaging increased by 11 percent."
AG James also charges that PepsiCo failed to warn its consumers about the risk of harm to human health and the environment posed by its packaging. PepsiCo's failure to warn consumers and its misleading public statements are said to violate New York General Business Law § 349 and New York Executive Law § 63(12).

Through this lawsuit, AG James is asking the court to require PepsiCo to cease contributing to the public nuisance it is causing in the Buffalo region, remediate the contamination it caused, and identify and implement measures to reduce the quantity of PepsiCo's plastic packaging entering the Buffalo River. The lawsuit further seeks to stop PepsiCo from selling or distributing any product in the Buffalo region in single-use plastic packaging that does not contain an adequate warning. The lawsuit also seeks disgorgement, civil penalties, and restitution. PW