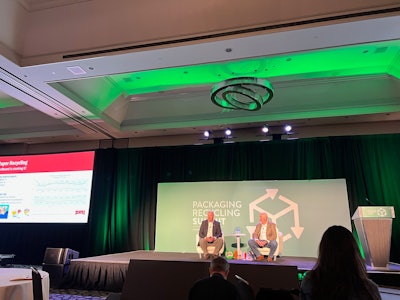 The packaging industry is witnessing a significant shift toward recyclability, driven by consumer demand and sustainability goals. As the industry adapts, key players are grappling with the complexities of designing packaging that aligns with recycling infrastructure capabilities and market demands for post-consumer resin (PCR). One of the industry goals is the expansion of plastic recycling.
Jeff Snyder of Rumpke, which operates 14 recycling facilities, and Mark Agerton from Procter & Gamble (P&G) shared insights into the current state of packaging recyclability and the challenges faced by material recovery facilities (MRFs) and consumer packaged goods (CPG) companies at the Packaging Recycling Summit, Nov. 6-8 in Atlanta.

One of the most pressing issues is the need for packaging that can be effectively integrated into existing collection systems and separated into a marketable form. Rumpke has expanded its acceptance to include paper, plastic, and aluminum cups, recognizing the abundance of recyclable materials in landfills. The company emphasizes the importance of having multiple end users for recycled materials to ensure a stable market.
The Hefty EnergyBag program is one initiative aimed at addressing the problem of film recycling. Consumers within the MRF area can purchase orange bags at grocery stores, fill them with film plastics, and place them in their recycling bins for pickup. This program helps segregate plastic films, which are challenging for MRFs to process and directs them to suitable end markets.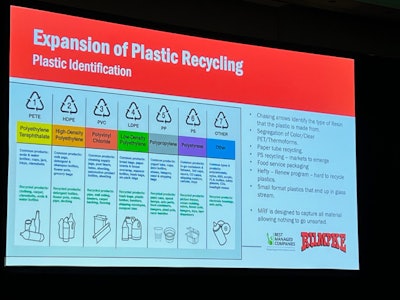 Partnerships for better recyclability
P&G, with its sustainability goals focused on climate, waste, water, and nature, is actively collaborating with MRFs to understand and improve the recyclability of its products. In addition, the company's partnership with Eastman has led to the creation of new packaging for the Herbal Essences bio:renew line, which incorporates 50% certified recycled plastic.
The Recycling Partnership, of which P&G and Eastman are founding members, aims to increase the capture of PET bottles and other materials.
P&G also worked with Rumpke to RFID tag thousands of its deodorant containers to track their journey through the MRF. Together, the two companies set out to see exactly what happens to the packages at the recycling facility to ensure they are correctly sorted into the polypropylene stream. In this case, the good news is that the packages went where they were supposed to go.
This collaboration between MRFs and CPG companies is vital for understanding how to design products for better recyclability. By testing products locally at facilities like Rumpke's, companies like P&G can gain insights that inform future product designs.
As the industry moves forward, it is clear that collaboration, technological enhancements, and a deep understanding of the recycling ecosystem are essential for making packaging more recyclable. The efforts of companies like Rumpke and P&G, along with the support of organizations like The Recycling Partnership, are crucial steps toward a more sustainable future for packaging.
Companies in this article