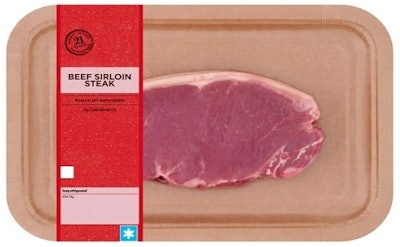 ThePackHub
The packaging industry is experiencing a substantial shift in materials, primarily driven by objectives centered around sustainability. The replacement of plastic remains a priority for many brands and retailers, as they seek alternatives that may provide a smaller environmental footprint or at least be more favorably received by consumers focused on anti-plastic initiatives.
Learn more about ThePackHub's Innovation Zone here.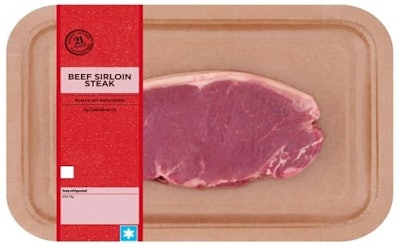 U.K. Supermarket Sainsbury's Moves Own-Label Steaks to Board-Based Packaging
U.K. supermarket chain Sainsbury's has announced that it is moving away from plastic trays to a board-based alternative for its own brand steak range. The move means that the new packs now contain 70% less plastic than the previous pack. Sainsbury's says that the move will result in a saving of 249 metric tons of plastic per annum. The trays can be recycled at home by rinsing the cardboard before placing them in a curbside recycling bin. The new format was originally introduced for its Taste the Difference and So Organic steaks and is now being rolled out on the full range of ten steak products. The move is part of Sainsbury's Plan for Better commitments, through which the company is trying to reduce plastic packaging across its own brand ranges. The new packs will be available in stores from July 2023.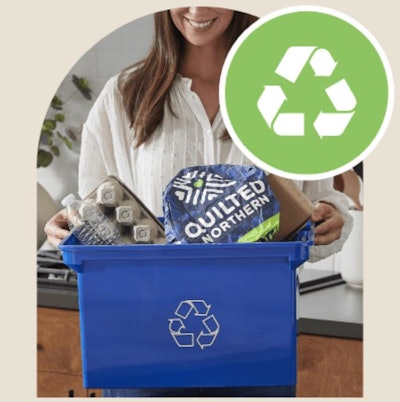 American Toilet Paper Manufacturer Quilted Northern Switches to Paper Packaging
American pulp and paper company Quilted Northern, is launching paper packaging for their bestselling packs of its Ultra Soft & Strong line, making it the first national toilet paper brand to offer recyclable paper packaging in major retailers. The new paper packaging replaces the previous LDPE (low density polyethylene) wrapper, and the company was keen to find a solution with the same attributes, namely puncture and water resistance. The new paper format, therefore, was designed to withstand potential tears and punctures throughout the supply chain, from the manufacturing facility in Louisiana to the customer's home, and while not 'waterproof,' the paper packaging was designed to provide adequate water resistance to protect the product during normal transport by the customer. The new packaging incorporates some adhesive coatings, but these do not affect recyclability. The new paper product also runs on existing equipment with minor modifications.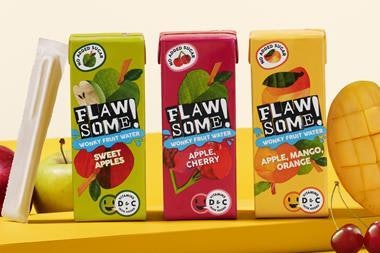 Juice Brand Flawsome Launches Paper Wrapping for Its Straws
Sustainable juice brand Flawsome has introduced a new carton range titled "Wonky Fruit Water", targeted at children's lunchboxes and featuring paper wrapping for its straws. This paper-based packaging initiative, a reported first in the children's soft drink sector, is expected to reduce the company's plastic usage by 252 kilograms and halve its carbon footprint compared to the average small juice brand. Each 200ml serving of the Wonky Fruit Water is fortified with iron, vitamin D, and vitamin C, contains no more than 39 calories, and up to 8.5g of sugar. Co-founder Karina Sudenyte expressed her excitement about the launch, highlighting Flawsome's commitment to sustainability and innovation in its operations.
Learn more about ThePackHub's Innovation Zone here.
Companies in this article