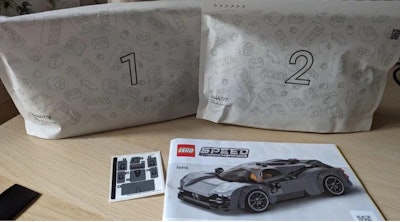 Courtesy of BrickFanatics
First announced in 2020, the LEGO Group's paper bags – which are due to replace the plastic bags that house bricks – are still not widespread in sets but are beginning to pop up in sets in Germany. To be clear, the paper bags are not replacing the outer paperboard cartons but the plastic bags inside the cartons that house the actual Lego Bricks.
In August, LEGO Group CEO Niels B. Christiansen confirmed to Brick Fanatics that the company is "on track" to meet goals to make its packaging sustainable by 2025. When initially announced in 2020, Lego pledged to invest $400 million to make all its packaging sustainable by 2025, using easy-to-open, recyclable, sustainably sourced bags certified by the Forest Stewardship Council.
"We are literally, as we speak, changing a lot of production machines throughout all our factories to make this happen," said Christiansen. "It's not an easy task, but it's now in execution. We know what to do; we are investing behind it, and you will already now start to see some paper bags in Europe."
Seeing as LEGO products are obviously centered around plastic, any effort from the LEGO Group to reduce plastic in packaging will surely go a long way.
Companies in this article