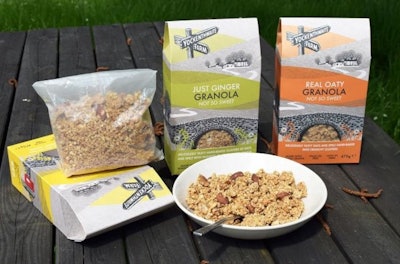 ThePackHub
The development of biodegradable, compostable packaging, and novel bio-based substitutes to plastic are continuing unabated. Nevertheless, the absence of widely available industrial composting infrastructures in many markets significantly hinders widespread adoption.
Learn more about ThePackHub's Innovation Zone here.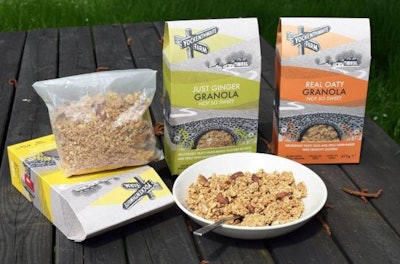 Breakfast Cereal Producer Yockenthwaite Farm Switches to Compostable Packaging
Yorkshire-based Parkside Flexibles has partnered with premium breakfast cereal producer Yockenthwaite Farm to develop a pack that replaces the original polypropylene (PP) bag and paper label packaging with a new bag-in-a-box format. A home compostable laminate bag made from Parkside's patented Park2Nature material is used. Park2Nature is manufactured from renewable resources such as plant fibers and has accreditation from PEFC (Programme for the Endorsement of Forest Certification). Park2Nature is TÜV certified as home compostable and decomposes in less than 12 weeks in Industrial composting and 26 weeks when composting at home at ambient temperatures. The project with Yockenthwaite Farm highlights the potential of Park2Nature in applications with high barrier requirements, as the granola must be protected against moisture and oxygen ingress throughout the supply chain. Park2Nature Is the result of over a decade of intense R&D to develop a fully-accredited home compostable, high-performance flexible packaging material.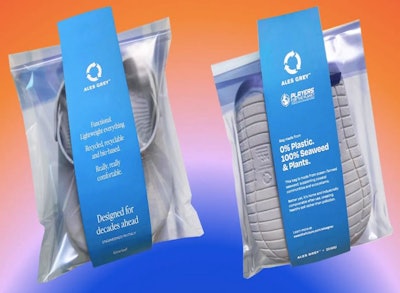 Ales Grey Sustainable Shoe Packaging is Made from Seaweed
Ales Grey is a Los Angeles-based certified sustainable footwear company. The company collaborated with Oakland-based Sway Innovation to replace the industry standard cardboard box with compostable packaging, which is made from seaweed. The 100% bio-based, home or industrial compostable film guards against dust and scuffing while eliminating over 50% of the overall packaging. Sway's packaging is sapphire blue in color, said to be reminiscent of pristine ocean water. The packaging also uses a band to communicate the fact that the seaweed-based pouch is "plastic-free", with information about ocean-farmed seaweed and how it helps coastal communities and improves their ecosystems. Sway sources seaweed from ocean farms and processors, who harvest and dry the seaweed. Processors extract its natural polymers. Sway then blends these polymers with renewable starches and sugars, and then transforms this proprietary formulation into packaging with the help of manufacturers.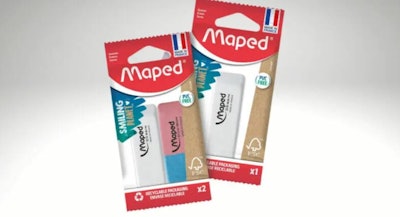 Stationery Manufacturer Maped Moves to Transparent Fiber-Based Window
A three-way collaboration has resulted in developing a transparent fiber-based window for an eraser product. French stationery brand Maped worked with Finnish fiber materials producer Ahlstrom, and German flexible packaging supplier adapa to move away from the previous classic blister pack. The new pack utilises Ahlstrom's Cristal base papers which are said to be ideal for transparent packaging. Cristal is made from natural cellulose fibers, yet the paper offers the same level of functionality and durability as traditional plastic packaging. By using renewable and biodegradable materials, Cristal offers a sustainable alternative without compromising on quality.The entire process, from papermaking to converting, was 100% made in France. By working with regional divisions of the parent companies, Maped's overall product footprint was reduced through this collaborative value chain. A spokesperson for Ahlstrom said that the collaboration between the companies was an example of their shared commitment to sustainability and responsible business practices.
Learn more about ThePackHub's Innovation Zone here.
Companies in this article