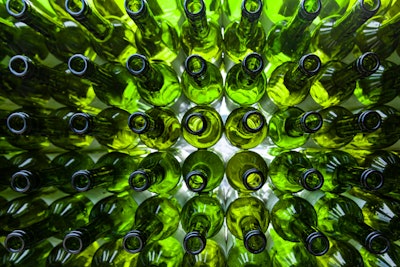 Long practice in countries in Europe like Sweden, Belgium, and even France, reuse in wine bottles is on the rise. According to SevenFifty Daily, a publication covering the business and culture of drinks, it has even made its way to U.S. wine hotbeds in Napa Valley. The European model falls in line with an edict from the EU in March setting a five percent target for wine bottle reuse by 2030, one of several moves to revisit and expand the reuse systems of the past.
"When I was a child in Sweden, we had refillable wine bottles. Not in the Italian or French sense where you brought your bottles and refilled; instead, we returned bottles to monopoly stores, and they cleaned and refilled them like milk bottles," says Erica Landin-Löfving, who previously worked for Systembolaget on global sustainability certification programs. "It wasn't from an environmental perspective; it was just the system."
With few municipal-run systems in place, infrastructure for reuse is being rebuilt in various ways, with Terracycle's Loop setting the pace as one of the largest platforms for global reuse. In the U.K., Accolade Wines has partnered with Tesco and Loop to create a zero-waste circular economy for their wines. Conscious Container, OOM, and Revino are additional reuse companies that take the reuse model directly to the recycling systems and collect the glass before it is recycled.
"There is no resistance to reuse by consumers. There's just a lack of availability, ease, and understanding," said Clemence Schmid, Loop.
The biggest challenge to wine bottle reuse will likely come from the wine producers themselves. Many have invested heavily in differentiated bottles that they hope will catch consumer attention in a crowded wine market. Visit any store that sells wine and see the results of dozens of glass manufacturers who each carry hundreds of SKUs, and the result is thousands of different bottle shapes, weights, and sizes.
For reuse to become prevalent, wine producers and wine consumers need to change their package purchasing priority to value the product inside the bottle, recognizing that the shape or weight of a bottle doesn't indicate wine quality.
SevenFifty Daily reports that some wineries in Napa Valley are eschewing fancy bottle packaging to reduce their carbon footprint. Trois Noix Wine is a pilot winery for Conscious Container.
"We stopped using foils years ago, went to tree-free labels, and used shorter corks. While moving our wines into lighter glass has been helpful when we heard there was an opportunity for reuse, it spoke to us," says Jaime Araujo, Trois Noix Wine's founder and vintner. "But because it's salvage glass, the bottle is different. If anyone notices, we use that as an opportunity to speak to how we're working, our process, and how we're trying to work with companies like Conscious Container."
Diana Snowden Seysses, the winemaker of family-owned Snowden Vineyards, launched Snowden 'Cousins' Merlot in reusable glass last year. When Snowden Seysses began thinking about reuse in the U.S., she worried about bottle standardization, widespread adoption, and recollection. But ultimately, she decided, "You have to focus on what you can do, not what you can't. In the end, we have to do it. There's no other option. We have to change."
Companies in this article