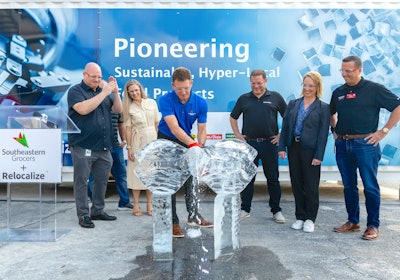 Southeastern Grocers Inc. (SEG), parent company and home of Fresco y Más, Harveys Supermarket, and Winn-Dixie grocery stores, has partnered with automated food production platforms service provider Relocalize to pilot ice manufacturing in what it says is the world's first autonomous microfactory. According to SEG, the facility has been designed to help eliminate middle-mile logistics to reduce global greenhouse gas emissions, water waste, and plastic pollution to nourish both people and the planet.
The new ice microfactory was unveiled at the grocer's Jacksonville Distribution Center, where a ribbon made of 200 pounds of ice was ceremoniously cut with a chainsaw by SEG and Relocalize leadership to celebrate the achievement.
Shares SEG, both SEG and Relocalize are committed to revolutionizing the food industry with the introduction of this first local microfactory that is centrally managed by an AI-powered software platform and utilizes robotics for 100% of production labor. This automated manufacturing process allows the grocer to scale production and create waste-reduction solutions throughout the full lifecycle of the product—all at a lower economic and environmental cost.
Through this partnership, SEG has also introduced Party Cubes, the world's first hyper-local, certified plastic-negative, packaged ice that is produced on-site and on-demand at the new micro-factory. This fresh, premium ice product is now available at two Jacksonville locations, including the Lakewood Winn-Dixie store and the grocer's standalone liquor store, WDs Wine, Beer and Liquor in the nearby Miramar neighborhood, with considerations to expand to the broader market in the future.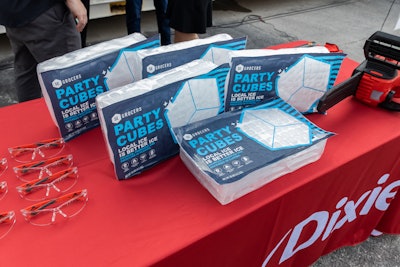 Says Anthony Hucker, president and chief executive officer for Southeastern Grocers, "Our partnership with Relocalize meets at the intersection of sustainability and innovation and provides a unique opportunity to offer our customers better ice, in a better package, at a better price—that's also better for the planet. We plan to pilot ice manufacturing in the world's first autonomous ice micro-factory in our hometown of Jacksonville, and we are excited to now offer Party Cubes in select local stores as we test and learn with the industry's first hyper-local, certified plastic-negative, packaged ice. We believe it's our responsibility to be leaders of change, and we continue to push forward for a brighter future for our people, products and planet."
Party Cubes are a super-premium cubed ice made efficiently, locally, and on-demand. According to SEG, Party Cubes also store better and cost less for consumers compared to traditional bagged ice, and the smaller, leak-proof packaging is 100% recycle-ready. For every one pound of plastic used in packaging, Relocalize will remove and recycle two pounds of ocean plastic. Additionally, the process produces zero water waste (compared to 50% normally) and reduces trucking carbon dioxide emissions by 90%.
"Two years ago, we set out on a mission to decarbonize food supply chains," says Wayne McIntyre, co-founder and chief executive officer of Relocalize. "Today, fully autonomous hyper-local food manufacturing becomes a reality through our partnership with Southeastern Grocers. This premier packaged ice micro-factory represents a fundamental shift in how packaged food is produced and distributed, ushering in the era of the one-step food journey from production to consumption."