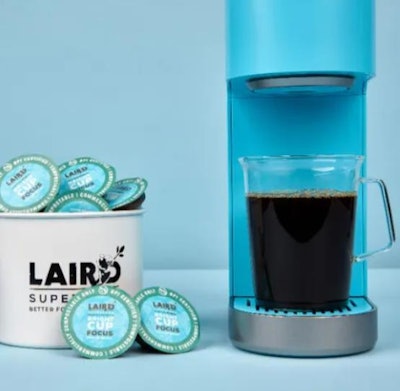 ThePackHub
Biodegradable and compostable packaging continue to be developed, as well as new bio-based alternatives to plastic. However, the lack of established industrial composting systems in most markets is a significant barrier to mass adoption.
Learn more about ThePackHub's Innovation Zone here.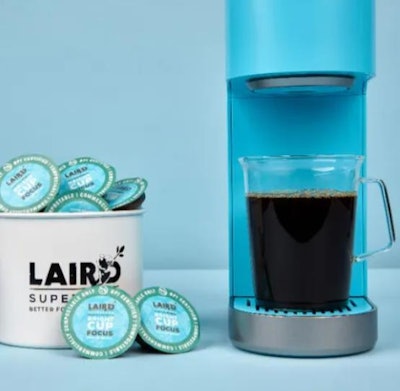 Laird Superfood Moves to Compostable Coffee Pods
Colorado-based Laird Superfood, which was launched in 2015 by surfer Laird Hamilton, has launched a product called K-Cups, as its own sustainable version of individual coffee pods. These commercially compostable single-serve coffee pods are made with plant-based materials and share the taste of coffee with that of the brand's best-selling Focus mushroom. The brand's K-Cups are one of the only single serve BPI (Biodegradable Products Institute) certified compostable coffee pods available. Laird Superfood is on a mission to reduce the amount of single-serving waste that ends up in landfills, especially as around 12 billion single-serving capsules were reportedly purchased last year. As part of its sustainability drive, the company has been moving to solar power in its new facilities and is constantly identifying ways to reduce its carbon footprint with an employee-led sustainability committee.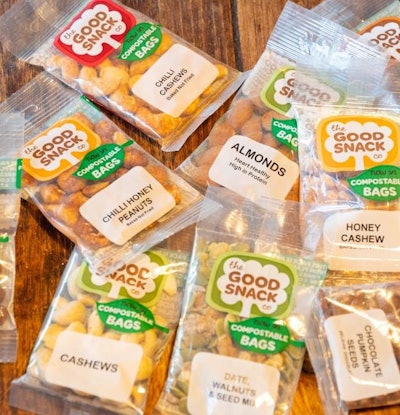 The Good Snack Company Moves to Compostable Packaging
Dublin-based ethical snack producer The Good Snack Company has partnered with Yorkshire flexible packaging supplier Parkside. The latter will supply The Good Snack Company with its Park2Nature compostable material, which is fully accredited by TÜV Austria for compostability. This independent verification confirms that the packaging completely breaks down in specified conditions and timeframes suitable for both industrial and home composting environments. The compostable film will be used for the company's 25g "shot" range of nuts and snacks. Park2Nature™is said to provide excellent oxygen and moisture barriers, keeping nuts and snacks fresh and crunchy, while also maintaining optimum flavor. The company plans to roll out the new compostable packaging further to incorporate their larger snack packs, currently packed in non-recyclable conventional plastics. Compostable materials are said to be ideal for small packs such as this as they are too small to recycle but are ideal for the home compost bin.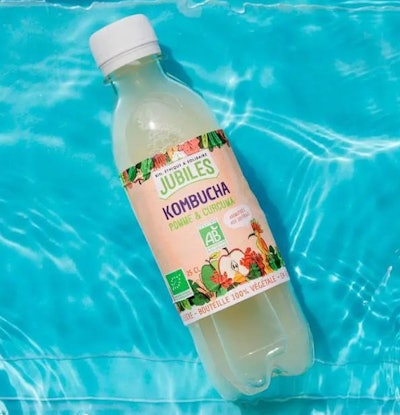 Kombucha Producer Jubiles Moves to Compostable Bioplastic Bottles
Jubiles is a French company that manufactures organic kombucha, a fermented, lightly effervescent, sweetened black tea drink. One of the materials they have access to for their bottles is bagasse, a fibrous by-product of the sugar industry, supplied by a producer based in Charente-Maritime, on the west coast of France. The manufacturing process to turn bagasse into bioplastic bottles does not involve any fossil fuels. The bottles for their organic Kombucha are made with materials that comply with the EN 13432 standard for biodegradability and compostability. Jubiles organic Kombucha bottles are industrially compostable, and although the sector is not yet sufficiently developed at the national level, local initiatives are developing. The company has now formed a partnership with Les Alchimistes, based in Lyons. Les Alchimistes are a bio-recycling and composting company, who will dispose and compost the bottles after use.
Learn more about ThePackHub's Innovation Zone here.
Companies in this article