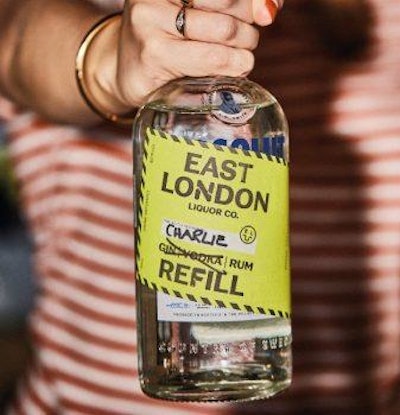 ThePackHub
The trend toward refillable and reusable packaging is gaining momentum as more companies explore ways to reduce their use of single-use, hard-to-recycle packaging. This growth is partly driven by the goal of the Plastic Pact to deliver reusable packaging by 2025. Many of these initiatives are coming from start-up and smaller brands, but multinational companies are also beginning to test the waters with small-scale trials and pilots. The dry food, household, and health and beauty sectors are currently the most active in this area.
Learn more about ThePackHub's Innovation Zone here.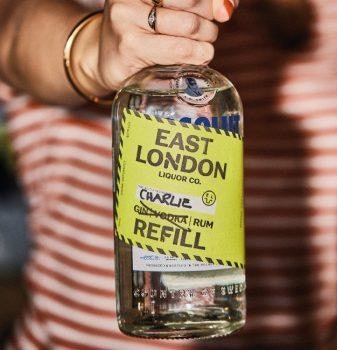 East London Liquor Company Introduces Refill Scheme for Spirits
The East London Liquor Company (ELLC) has announced the launch of Project Refill. For off-trade sales, the initiative allows customers to bring any empty 700ml bottle from home. They can then choose whether to fill it with East London gin, vodka or rum. The bottle will then be relabelled, and a fresh duty stamp will be added. The campaign has been launched to combat packaging waste and rising costs by selling its gin, vodka and rum in an additional 10-liter HDPE (high-density polyethylene) jerry format. On-trade accounts can now order ELLC spirits in the curbside recyclable format so that existing bottles can be refilled for the back bar and speed rails. The CO2 emissions linked to the production of the primary packaging are reportedly reduced by 88% when using the 10-liter HDPE refills versus glass bottles.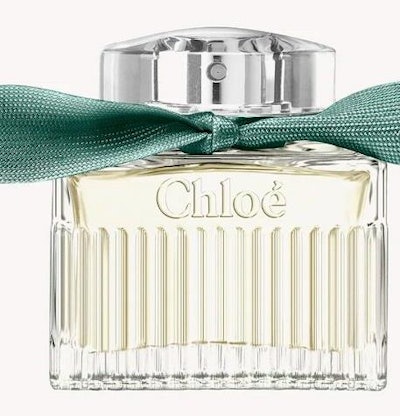 Coty Announces World's First Cradle-to-Cradle Certified Refillable Perfume
French multinational beauty brand Coty has announced the launch of what it says is the world's first fragrance to receive a C2C Certified Material Health Certificate at the Silver level. It was awarded the certification for its Coty Chloe Rose Naturelle Intense, whose refillable bottles demonstrated reduced environmental impacts across Product Life Cycle Assessment indicators. It is reported to help reduce up to 65% in greenhouse gas emissions, 67% in water consumption, 66% in energy consumption, and 75% in mineral resources consumption. The environmental footprint life cycle assessment of Chloé Rose Naturelle Intense was conducted by an independent organization, EVEA, to measure the impact of the bottle and its refill, from the choice of raw materials to the end of the product's life. EVEA evaluated the environmental footprint of a 100ml bottle combined with a 150ml refill compared to five traditional 50ml bottles.
Cosmetic Brand Teaology Chooses Refillable and Recyclable Jar for New Launch
Teaology is an Italian beauty brand that produces tea infused skincare formulations. For their new Kombucha Revitalizing Face Cream, they have chosen Lumson's Re Place jar, which is both recyclable and refillable. The Re Place jar features a glass container with an inner PP (polypropylene) cup system designed to be easily removable and replaceable. Re Place is based on Lumson's Deluxe and Unique 50ml glass jars, which offer classic and rounded lines. The plastic inner cup has been specifically designed to allow a protective seal to be applied on top. After use, the inner cup can be easily removed from the jar and disposed of through the recycling chain. The inner cup was customized to match the graphics and colors used for the new line. Since its creation in 2017, it is reported that sustainability has been a major part of Teaology's ethos, and they are a certified B Corp company.
Learn more about ThePackHub's Innovation Zone here.
Companies in this article