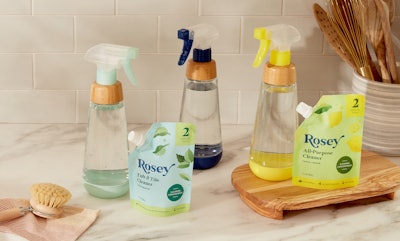 Not to be outdone by their big brand competitors, such as SC Johnson and Reckitt Benckiser, in the area of refillable and reusable packaging, direct-to-consumer (D2C) companies continue to launch innovative, design-forward refill/reuse systems for household cleaning products. Among them is Thrive Market, a membership-driven e-retailer that curates a range of healthy, affordable, and sustainable products that include food and beverage, health and beauty, baby, and pet products, among others. Described as "Costco meets Whole Foods," Thrive Market has more than 6,000 products from which to choose, including 600-plus of its own-brand offerings. In March 2022, it launched Rosey by Thrive Market, a 28-SKU line of planet-friendly household cleaning essentials. Representing Thrive Market's first foray into reusable packaging, the line includes three liquid cleaning concentrates in flexible pouches that can be used with three beautifully designed, minimally branded reusable glass bottles.
---
---
According to Christine McNerney, senior director of Home, Health + Beauty for the e-retailer, Thrive Market launched Rosey to meet the all-time-high demand for household cleaning products, driven by the pandemic, the back-to-school season, "and everything in-between," she says. "Consumers are looking for high-performing, high-quality, and affordable home cleaning goods: enter, Rosey. The new line features a refillable, reusable cleaning system and squeezes in two 16-ounce bottles worth of cleaner in one four-ounce pouch [the formula is 8x concentrated]."
Like a number of other brands that have moved to or have launched in reusable packaging, Rosey's formula is equally eco-conscious. "We have a rigorous set of standards spanning ingredient portfolio, materials, and formats, and Rosey adheres to the highest echelon of standards, allowing our members to clean their homes more safely and sustainably versus traditional household cleaners," McNerney explains. Rosey's affordable price point also makes "clean" cleaning accessible to all of Thrive Market's members, she adds.
Products in the refillable/reusable line include an All-Purpose Cleaner in a Fresh Lemon scent, a Tub & Tile Cleaner in a Peppermint Scent, and an unscented Glass & Mirror Cleaner, with the concentrates packaged in a flexible film stand-up pouch with a dispensing spout and a reclosable, screw-on cap. The complementary reusable, dishwater-safe bottles—or vessels, as Thrive Market refers to them—feature a glass body, a non-slip, protective silicone boot colored yellow, blue, or green and subtly engraved with the Rosey logo, a plastic trigger spray made from recycled material, and a bamboo neck. According to McNerney, the bottle can be used "forever."
---
---
Given the range of reusable packaging options for household cleaners available on the market today, McNerney says that with Rosey, Thrive Market wanted to closely mirror a format that consumers are familiar with, i.e., liquids. "We know converting from a conventional, familiar option to a sustainable alternative can be challenging for the consumer," she says. "Our team's shift to a refillable liquid pouch required a smaller behavior shift to introduce this sustainable option to a broader member base."
All Rosey products, including the reusable bottles and refill concentrates, are sold on the Thrive Market site. The Refill-at-home products are available as standalone items—at press time, priced at $9.99 per 16-oz bottle and $4.99 for a 4-oz refill—or bundled together for $12.99.