Unilever
Unilever will soon launch a new laundry capsule and container designed to add a dash of sustainability to the laundry cycle.
The new capsules, set to be sold under Unilever's Dirt Is Good brand (also known as Persil, Skip, OMO, and Surf Excel across global markets), use a fully biodegradable membrane now made with 25% renewable materials, a Unilever release says. The brand claims it's the fastest dissolving capsule on the market.
"We needed to strike the balance between a film strong enough to protect the liquid formulation that would also dissolve quickly and fully in cold and short cycles, ensuring consumers could use them with confidence in the most energy efficient washing machine cycles," Dr. Keith Rutherford, Head of Global Innovation, Unilever Home Care R&D, says.
The short and cold cycle-capable capsule design, combined with a detergent formula using biodegradable and 65% plant-based active ingredients, reduces the capsule's carbon footprint by 16% and saves consumers up to 60% energy per wash.
The product's packaging sustainability benefits extend beyond the capsule with a 100% plastic free container, supplied by Graphic Packaging International (GPI). Using fully recyclable carton board that is sourced half from recycled material and half from Forestry Stewardship Council (FSC) certified forests, Unilever expects the containers to prevent over 6,000 metric tons of plastic from entering the waste stream each year.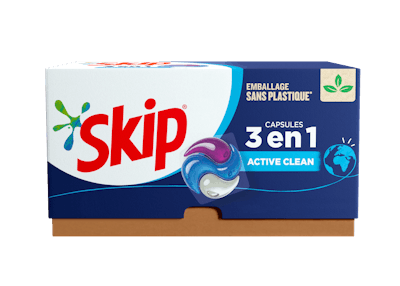 The container features water-based barrier coatings and a separate pad inside to protect the capsules from water damage and excessive heat or humidity. It is easier to open than the outgoing plastic equivalent, with carton board strong enough to maintain opening functionality after repeated use. It also meets European standard test protocols for childproofing.
"[GPI and Unilever's] combined expertise in carton design, product protection capabilities, and understanding of consumer behavior has enabled us to create this superior, plastic-free and child-proof solution, enabling consumers and businesses alike to reduce their use of single-use plastic," Graphic Packaging International Director of New Business Development, EU Consumer Products Ralf Mack says.
This new package design furthers Unilever's Clean Future Strategy, which aims to "fundamentally change the way that some of the world's best-known cleaning and laundry products are created, manufactured, and packaged," the release says.
Announced in September 2020, the strategy is backed by a €1 billion investment over the course of 10 years. It includes goals to use less plastic, better plastic, or no plastic where possible, and design packaging to meet requirements for a circular economy.
"Through our Clean Future program, our ambition is to make sustainable cleaning the compelling choice for every consumer by bringing real innovation to established mass market products," Unilever's Rutherford says. "The new proprietary formulation and child-proof cardboard packaging is the work of so many people. This is our best and most sustainable laundry capsule yet."
The capsules will be first released in France September 2022, followed by the UK and other European countries in early 2023, with plans to expand globally in all Dirt is Good markets.
Companies in this article
Videos from Graphic Packaging Intl.